Indian weddings and gold go hand in hand. So much so, that it is almost impossible to fathom a desi shaadi sans any of the jewels. That said, gone are the days when brides would accept family gold and old jewels as part of their wedding trousseau. Don't get us wrong. Heirlooms pieces are nice and all but the modern-day bride wants everything to her taste and customised. We get it and have actually curated a list of the most gorgeous wedding gold necklace designs to help you with the research and ample inspiration. Marrying soon? Scroll through!
Traditional Wedding Gold Necklace Designs
Irrespective of whether you are the minimal bride or someone planning to go OTT at your wedding, we have got something for everyone. Follow through for a carefully picked assortment of gold necklace designs for your wedding: 
Iris Necklace By Suneet Verma
This Suneet Verma masterpiece is easily one of the best gold necklace designs for weddings that involve traditional dress-up and accents. From the layered design to the statement pendant, we love it all. 
Ethereal Swan Lake Necklace By Tribe Amrapali 
Here's another wedding gold necklace design that would be perfect for traditional brides. It will go especially well if you are planning to wear a saree or an understated lehenga. 
Navratna Necklace By Avama Jewellers
This Avama necklace is reminding us of the navratna masterpiece that Mira Rajput wore for her intimate wedding. The best part is that it is super versatile and we go beautifully with a variety of silhouettes and hues. 
Long Raanihaar By Kishandas & Co. 
Looking for a gold necklace design for your wedding to create that regal layered look? Look no further than this Kishandas and Co. beauty.
Laksmi Kasu Gold Necklace By Tanishq
This traditional wedding gold necklace design is perfect for brides who want to invest in something that can be easily worn even after D-day.
Traditional Gold Necklace By Malabar Gold & Diamonds
Here is another traditional wedding gold necklace design that would be perfect if you plan to add a yesteryear touch to your look. 
Antique Gold Necklace By Vaibhav Jewellers
If you are looking for a bridal wedding gold necklace design that is equal parts traditional and gorgeous, this Vaibhav Jewellers offering would be worth giving a shot.
Crystal & Pearl Ranihaar By Anita Dongre
Layering up your jewels is the easiest way of nailing your bridal look. Here's a gorgeous Anita Dongre offering inspired by India's regal architecture that would be the perfect add on to your ensemble. 
Traditional Long Gold Set By Manubhai Jewellers
Here's another wedding gold long necklace design that would be perfect to ace that layered look.
Antique Gold & Emerald Set By Popley Eternal
Traditional craftsmanship meets modern fashion in this beauty by Popley Eternal. Rest assured, it is one of the traditional wedding gold necklace designs. 
Best Gold Necklace Designs For Wedding
Looking for the best gold necklace design for your wedding–something that will make you truly stand out? Follow through for our curation:
Golder & Emerald Bijoux Necklace By Popley Eternal 
Here's one of the most glorious wedding gold necklace designs on the internet right now. From the emerald accents to the fine gold and diamond detailing, we love it all. 
Minimal Choker By Carat Crush
We love this polki choker by Carat Crush because it is as versatile as it gets. This is a great gold necklace design for intimate weddings and minimal brides. 
Elaborate Necklace By Virrayaa Jewellery 
It is the scalloped gold details and the uncut emeralds in this elaborate gold choker by Virrayaa that have our hearts. This bridal wedding gold necklace design is one of a kind and truly exquisite. 
Stone Cluster Long Necklace By Gossip Fashion Jewellery 
If you happen to have a thing for multi-coloured stones, then might we interest you with this beauty from Gossip Fashion Jewellery? 
Kempu Jadau Necklace By Paksha
In this statement wedding gold necklace design, a string of semi-precious Kempu buds creates a winsome blossom that is delicately rich in artistry. 
Unique Temple Necklace By Mahesh Notandass
Here's a temple necklace unlike any that you might have seen before. We love the alternating spike and pendant design in this Mahesh Notandass offering.  
Layered Gold Necklace By Candere
This wedding gold long necklace design surely deserves a spot in your bookmark folder. 
Pearl & Gold Necklace By Joyalukkas
Here's a wedding gold necklace wedding design for the connoisseurs of all things delicate and divine. 
Ahalya Polki & Emerald Necklace By Aurus Jewels
Here's one of the best gold necklace designs for your wedding if you are looking for something that you can pass down to the future generation as an heirloom.  
Gold Foil Finish Stone Necklace Set By Khushi Jewels
This dainty beauty is a great pick for brides who want it minimal albeit standout. 
Latest Wedding Gold Necklace Designs
Love to keep up with the trends and looking for some latest wedding gold necklace designs? Read on:
Chunky Meenakari & Pearl Necklace By Rare Heritage
For brides on the lookout for the latest bridal jewellery designs, this polki and pearl necklace by Rare Heritage will be a great choice.
Minimal Choker By Prakshi
Those who have been following the latest bridal jewellery trends would know that minimal chokers are a huge rage among brides. We have picked this gold and diamond offering from Prakshi to liven up your trousseau. 
Riot Of Colour Gold Choker By The Mauve Unitx
Here's some gorgeous jewellery that is equal parts vibrant and standout. We love this kundan necklace for its colour contrast details and pearl trims.
Gold Plated Kundan Choker By Anayah 
Want to look like a maharani at your wedding? This wedding gold necklace design is the one for you. We are digging the ombre stones and the pearl drop finish. 
Gold & Ruby Necklace By Kohinoor Jewellers Agra
This latest wedding gold necklace design is for brides who have a thing for precious stones. 
Gothic Necklace By Forest Of Chintz
For brides who wish to experiment with jewels that standout and no one can help but notice, this gothic pick by Forest of Chintz would be a great fit.  
Convertible Choker Necklace By Bluestone
This Bluestone wedding gold necklace design is special because it can be compressed into a bracelet. You can wear this gorgeous jewel as both a necklace and a bracelet. Cool, right?
Spiked Gold Necklace By P.C.Chandra Jewellers
This spiked gold necklace by P.C. Chandra Jewellers has a very regal appeal to it. From your silk, off-shoulder outfit to your opulent saree, it will work like a charm with a lot of your outfits.  
The Freida Necklace By Bluestone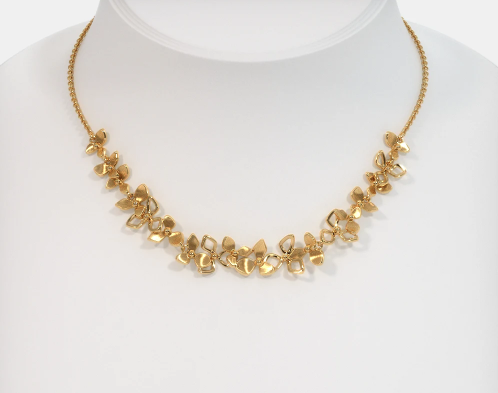 The Frieda necklace by Bluestone is truly one of a kind. This is an investment piece that will go well with most outfits and get compliments everyone time you wear it. 
Taksh Set By Art Carat
If you have a thing for uncut stones and pearls, this bridal wedding gold necklace design is sure to catch your eye.
So, brides-to-be, all set to finalise your wedding gold necklace design?
Featured Image: Suneet Verma