Sure, Alia Bhatt and Hailey Bieber come from different worlds. They're of different ages, cater to different audiences, and have completely different lifestyles. Yet, their routines are similar in more ways than one.
From the way they like their skin to their choice of concealer and even the way they style their hair, Alia Bhatt and Hailey Bieber have a lot more in common than we thought. Take a look.
They Use The Same Concealer
While disclosing the contents of their bags in different videos, both, Alia and Hailey confessed to swearing by the same NARS Creamy Concealer. Both the stars use the product under their eyes to cover up any pigmentation on their skin.
They Love Mixing Up Their Lotions And Potions
Hailey can't get enough of foundation but Alia stays away from it and uses a skin tint instead. Nonetheless, both of them love diluting their coverage products. Alia prefers mixing a primer with her skin tint and then applying it to her skin. Hailey on the other hand, mixes her Rhode glazing fluid with her foundation and then applies it to her skin. Both promise that it makes the skin feel so much lighter and look less cakey.
They Swear By The Same Lip Balm
Sure, Hailey's biased towards Rhode products because they're her brand. But Alia too, can't seem to get enough of the Rhode Lip Peptide treatment. "It's a peptide lip treatment that I found very interesting," Alia said about the product that was introduced to her by her sister, Shaheen. She also carries it everywhere she goes!
They Love 'Glowy Skin'
In a time when matte skin was extremely popular, Hailey Bieber turned things around and brought forth glazed donut skin. This not only put the focus on skincare products that made the skin shine but also on the idea of healthy skin and less is more. Alia too, is a firm believer of this trend. She can't do without her barrier-repair products and has talked about loving the 'glowy skin' look multiple times.
They Love The 'Slicked Back' Bun
The best way to show off glazed, glowing skin? Pull back your hair into a sleek bun so it doesn't overshadow the skin. Both, Hailey and Alia are a fan of this slicked-back hairstyle that looks so chic. Alia and Hailey even experimented with the spiky, supermodel bun at around the same time and aced the look.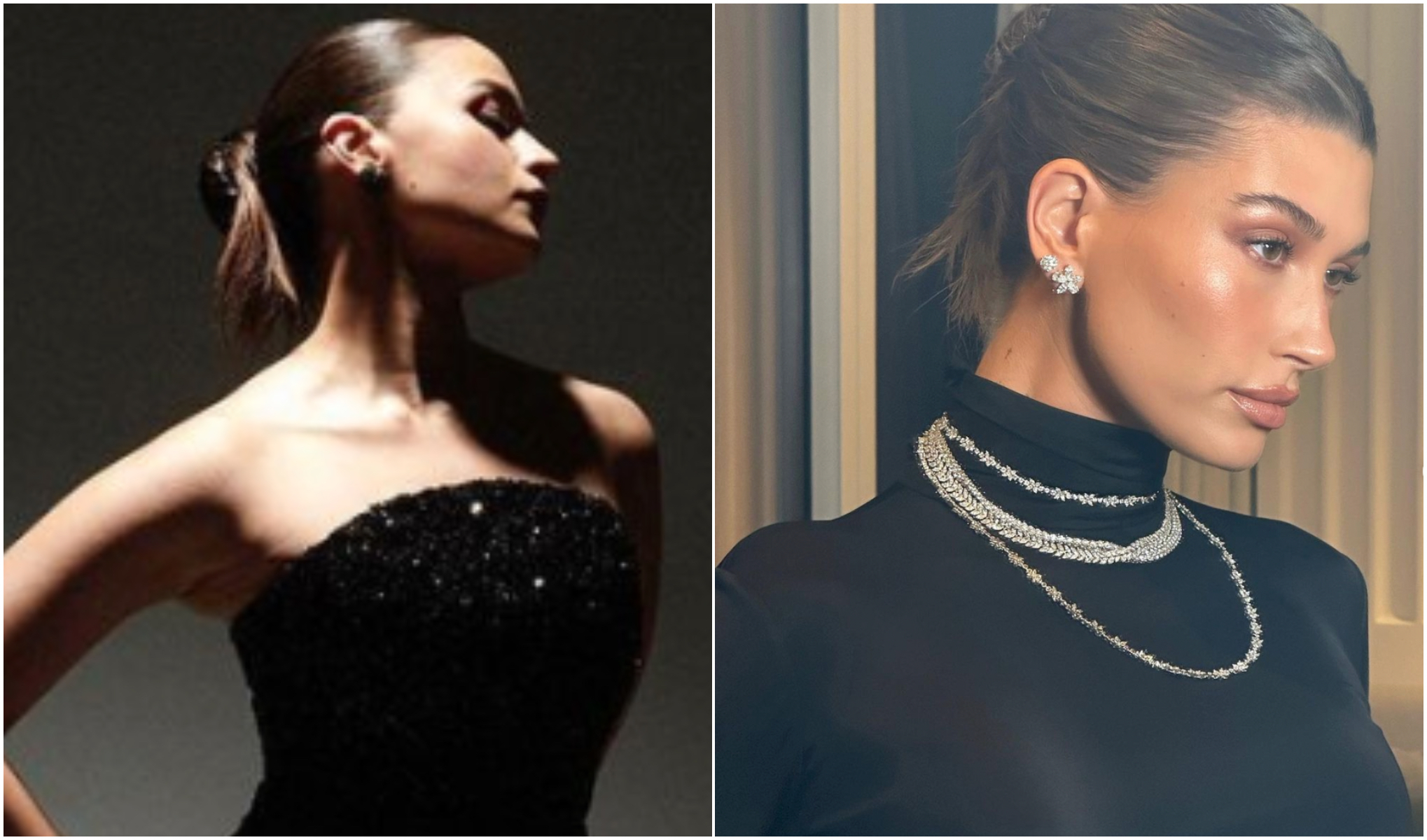 Clearly, they're both trendsetters and divas in their own sense. And it only validates the trend for the rest of us when our favourite beauty girls give it their vote of confidence!
Featured Image: Instagram