The Queen Returns! 5 People Who'll Have Sleepless Nights Now That Kangana Ranaut Is Back On Twitter
Kangana Ranaut has finally made her comeback to Twitter. The actress announced her dhaakad return by writing, "Hello everyone, it's nice to be back here 🙂." 
Doing what she does best, Kangana is already on a tweeting spree and is currently commenting on "how the (film) industry got obsessed with money." The message is clear—the Queen is back and she means business. NGL, I kinda missed this. After all, few have the guts to speak their mind without giving two hoots about others' opinions. However, some people must be quaking in fear. Who all am I talking about? Scroll down:
The Head Of Instagram
After getting banned by Twitter in May 2021, Kangana tried to make do with Instagram. She started using IGTV and stories to share her unfiltered takes on the film industry. However, something ticked her off in November 2022. The actress called Instagram "dumb" and expressed disappointment in how it is "all about pictures". She wasn't happy with the fact that the opinions that she posted on stories were disappearing after 24 hours. Well, now that Kangana is back in her comfort zone, watch out, Adam Mosseri. She'd soon be posting a list of recommendations.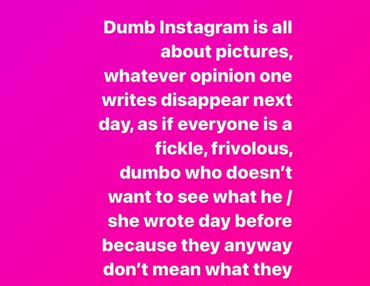 Alia Bhatt
Kangana had a lot of opinions about Alia Bhatt's Gangubai Kathiawadi and Brahmāstra. The SOTY actress has a slew of big-budget movies lined up for release this year and it will be interesting to see if Alia finally manages to please Kangana. I am here for all of Kangana-special film reviews!
Karan Johar
'Coz these two are like Tom and Jerry who can't live without troubling each other. After watching Koffee With Karan Season 8 with no expert comments from Kangana, I think I will now start a petition for her to review the chat show. It will be epic!
Sajid Khan
Nothing gets Kangana typing on Twitter as quickly as bad cinema. Well, I hear that Sajid Khan is releasing a film after four years and given his track record, this might end in some fireworks.
Jaya Bachchan
In November 2022, an "awkward" video of Jaya Bachchan and Kangana from Uunchai screening went viral on social media. Many accused Jaya of deliberately ignoring the Tanu Weds Manu actress. Well, if this is what actually happened, we know Kangana already has a 280-character-long Tweet ready in her drafts. Anyday now!
Welcome back, Kangana. You were missed on Twitter!
Featured Image: Instagram