End Of An Era: Bidding Adieu To Lata Mangeshkar, The Heart & Soul Of Hindi Music
Today marks the end of an era as we bid adieu to Lata Mangeshkar, the Nightingale of India. The legendary singer breathed her last at Breach Candy Hospital, Mumbai earlier today and the nation is still trying to grasp the magnitude of this loss. The playback icon has left an indelible mark on the Indian music industry and while she might be no more, her legacy will live on. 
Lata Didi, as she was fondly called, started her career as a child artist at just 13 and then went on to become the voice that defined Indian music for generations to come. With a career spanning eight decades, she contributed to over 25000 songs, some of which defined the zeitgeist of entire decades. Lada Didi's melodious voice and her unwavering command over it won her many accolades including the Bharat Ratna, the Dadasaheb Phalke award, the French Legion of Honour, five Maharashtra state film awards, three national film awards, and countless other honours and citations.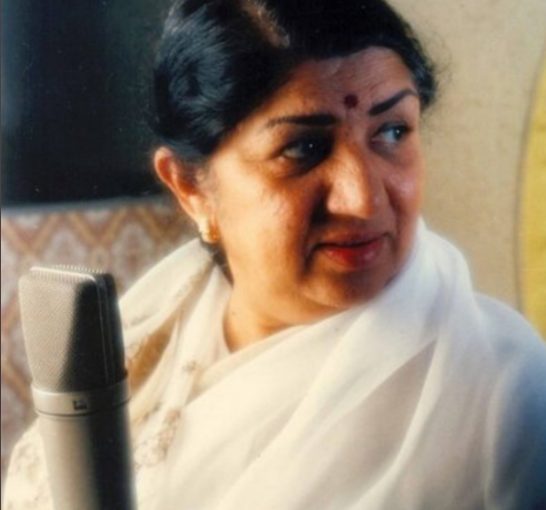 Today, as we bid her goodbye, a gnawing void stares us in the face. How do you even articulate the loss of a voice that has defined so many milestones in your life? Don't we all have that one Lata Mangeshkar song that played on loop while we fell in love for the first time? Or that song that helped us deal with the haunting mess that is heartbreak and loss? 
Music is said to heal all wounds and as we try coming to terms with this loss, here are 10 gems from Lata Didi's oeuvre that will always touch our hearts:
Lag Ja Gale
Oh, the irony of a love that asks for promises of forever and the ever-fleeting time! One of the most haunting songs of all time, this one hits with a different intensity today.
Aap Ki Nazron Ne Samjha
There is a sublime beauty in being loved by someone that you already love. Lata Mangeshkar's voice translates it beautifully in this song.
Ajeeb Dastaan Hain Yeh
It was how Lata Didi poured the harsh truths of life in songs while softening the blow with her soothing voice that touched hearts and will continue to do so.
Aayega Aanewala
Isn't it hope that keeps the world going on the stormiest of the days and the darkest of the nights? This Lata Mangeshkar song is a tribute to the unyielding hope and human spirit.
Aaj Phir Jeene Ki Tamanna
Lata Didi was a master of emotions. From giving us some of the most haunting tunes to boisterous melodies, she could do it all and this happy-go-lucky song is proof.
Jiya Jale
There doesn't exist any song that encapsulates the true passion of all-consuming love like this Lata Mangeshkar song.
Kabhi Khushbi Kabhi Gham
Lata Didi could infuse even the most simple lyrics with a life of their own the Kabhi Khushi Kabhi Gham title track is proof.
Humko Hami Se Chura Lo
So many of the 90s kids remember this one as the ultimate love song!
Tujhe Dekha Toh Ye Jaana Sanam
The biggest song of the biggest Bollywood film to date? Yes, definitely sounds like a Lata Mangeshkar thing!
Tere Bina Zindagi Se Koi
Can't help but keep thinking about the "tere bina zindagi bhi toh lekin, zindagi nahi" part of this song right now.
She might have left but Lata Di would forever continue to be a musical touchstone. Her legacy will live on. Her music will live on.
Featured Image: Twitter
© 2023 THE GOOD GLAMM GROUP