The MyGlamm LIT Brow Definer Pencil Takes My Eyebrows From 0 To 100 In Seconds
MyGlamm LIT Brow Definer Pencil
In This Article
If you believe in the power of defined brows, the MyGlamm LIT Brow Definer Pencil is going to be your new best friend. Here's why.
What Is It?
Simply one of the best eyebrow pencils I've used in a while, this product is super pigmented and gives your brows a natural look you would not expect from a pencil. Additionally, it's smudge-proof and lasts up to 9 hours!
Why We Love It
It's super easy to use. In the past, every time I've used a brow pencil, either it's too dark and makes my brows look like caterpillars or the shade is too light which looks extremely off. The MyGlamm LIT Brow Definer Pencil, left me *shook* since it gives my brows a very natural yet fuller look. Formulated with eco-conscious ingredients, it is also free from D5, preservatives, mineral oil, and nano-ingredients
How To Use It
Just brush through your brows and start creating tiny strokes with the pencil. If you want to make your brows look bigger than they are, draw an outline first and start filling them in.
Pro Tip: Start with feather-light strokes and darken them as you go!
What It Looks Like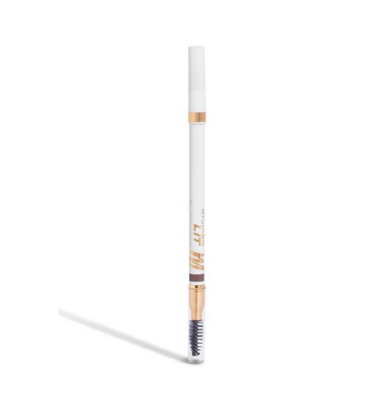 Super Budget Friendly:
A great eyebrow product for a great price!
In Conclusion
I love this and never leave the house without it because honestly, my eyebrows have never looked better!
Recommended For You
Flossy Cosmetics' Get Glazed 24k Lip Gloss Has Travelled With Me On Every Single Flight, Here's Why
Eye Creams May Be A Scam But Trust Me, The Ordinary's Caffeine Solution Eye Serum Actually Works
The MyGlamm Jet Set Eyes Kajal Eyeliner Won't Budge Till You Want It To
The POPxo Glow Goals Illuminating Sunscreen Gave Me Glazed Skin + SPF Protection!
Want Buttery Smooth Skin? Try The Bath & Body Works Gingham Ultimate Hydration Body Cream
Nothing's Set In Stone, Except Your Makeup After The MyGlamm POSE HD Setting Powder!
---
© 2023 THE GOOD GLAMM GROUP