Kriti Sanon's Lip Balm Hack Is Going To Save You So Much Money!
Any time Kriti Sanon talks skincare, I listen. Because that girl is caught up, and how. She's just as obsessed with beauty as I am, and she's exceptionally good at extracting as many benefits and uses from one single product as she can. Because do you truly need that second product? Probably not.
In one of her YouTube videos, she uses a basic, conventional lip balm as a treatment for wrinkles…on a bizarre part of the face. And, hey, it makes a lot of sense. You might want check this part of Kriti's skincare routine out.
Kriti First Uses The Lip Balm Normally
Kriti dabs a petroleum jelly-based lip balm onto the lips right at the end of her routine. This instantly seals in moisture and smooths over cracks, lines, and dryness overnight. Kriti relies on the Laneige Lip Sleeping Mask in Berry to do so. This treatment is also infused with Vitamin C and coconut oil to brighten and hydrate the pout even more.
And Proceeds To Apply It *Here*
But that's not where it ends. She informs us of a hack that she typically performs in the night. After dabbing the product onto the lips, she quickly pats it to pick up any extra lip-balm build-up. She, then, applies this residue along the eyes — typically around the outer corners of the eyes. This is where crow's feet appears as you age.
But Wait…What Are Crows Feet?
When you smile, you might notice lines form around the outer corners of the eyes temporarily. These lines become more pronounced as you age because of the loss of collagen and elastin in your body.
These proteins are responsible for the firmness and flexibility of your skin; but their levels begin to deplete over time. This manifests as sagging, wrinkles, and lines around the eyes. Your skin isn't able to retain much moisture or repair its barrier anymore either. This causes dryness, irritation, and dullness.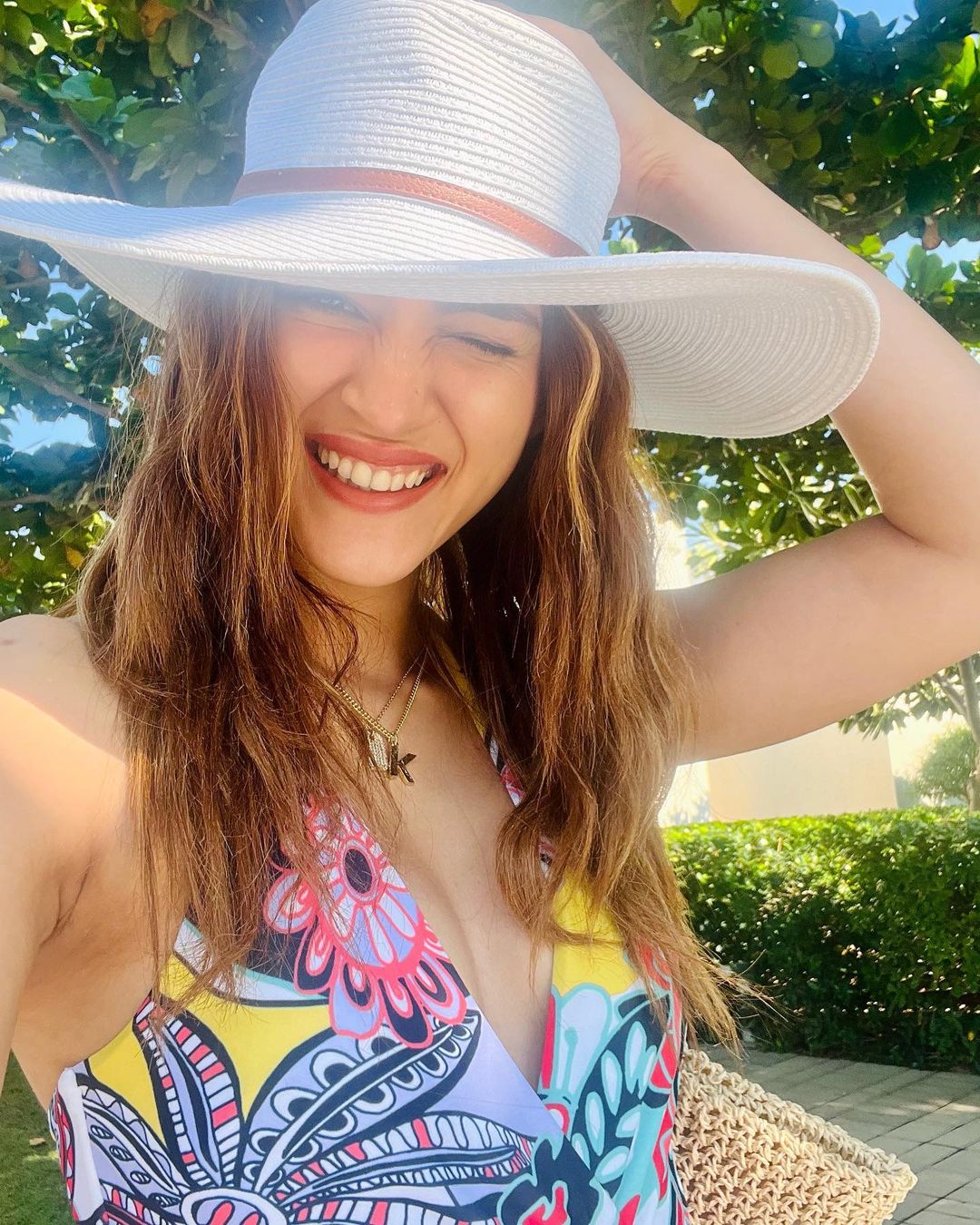 How Does It Even Help?
You might have heard of slugging — a process that involves layering Vaseline or any petroleum jelly-based product onto the skin overnight. That's exactly what Kriti is doing. But instead of applying it all over the face, she simply focuses on the eyes.
Since Vaseline is an occlusive — which means that it forms a layer over your skin to seal in moisture — it prevents water from evaporating from your skin and leaving it dry. This boost of moisture protects the skin barrier, plumps up the skin, and delays the onset of ageing by ensuring that the under-eye are is well hydrated and nourished.
Keep in mind that dryness can lead to defined lines and wrinkles — especially around the eyes as your skin is thinner in this area.
You can even use the Vaseline Pure Petroleum Jelly if you're looking for something economical.
That's how easy it is. Kriti's beauty routine is so low-maintenance and relatable, I'm obsessed!
Featured Image: Instagram
© 2022 THE GOOD GLAMM GROUP