J.Lo's lips have been the envy of many fashion girlies looking to upgrade their makeup game. Sexy, flirty, and not too obvious, this look is making a comeback across the world and my feed is flooded with recs of the perfect brown lip liner. 
While I disagree that there can be 'a perfect brown lip liner', I'll take any excuse to add more lip products to my collection. So when Hailey Bieber recommended the very same lip liner that J.Lo uses, I was convinced. 
Enough With The Suspense, What's It Called? 
The Anywhere Caffeine Lip Liner from Makeup Forever is creamy, with a tapered top making it easy to overline. But the best part about this liner is how multifunctional it is—you can use it as a lip liner (obviously), eyeshadow, eyeliner and even to fill in your brows. 
Hailey Bieber likes to pair it with her Charlotte Tilbury Pillow Talk Lipstick, "For lips, everyone knows I love this Anywhere Caffeine Lip Liner [from Makeup Forever]," she said in a video. "I'm just gonna put it on my finger and dab it on. She uses her middle finger to pat it in and confirms "I love this lip combo. I love lip combos that I feel match the natural colour of my lips."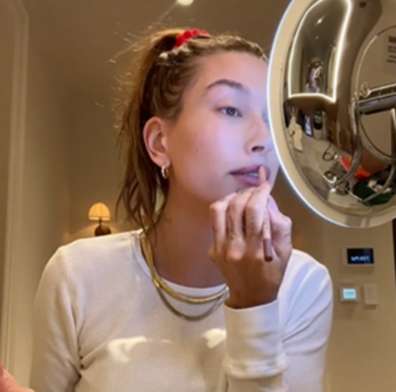 Back to the JLo Gloss Lip Look 
To re-create this iconic '90s retro gloss look, either get the same lip liner or choose one that is slightly darker than your natural lip tone. If you have a lighter skin tone, look for a beige-brown colour, and if you have a darker complexion, look for a chocolate/cocoa shade.
Bring the pencil to the edge of your lip line—since some lip lines extend farther out than the actual coloured part of the lip, don't be afraid to overline. Additionally, if you add a dab of concealer or lip primer to the edges of your lip line, it'll give the optical illusion of plumping.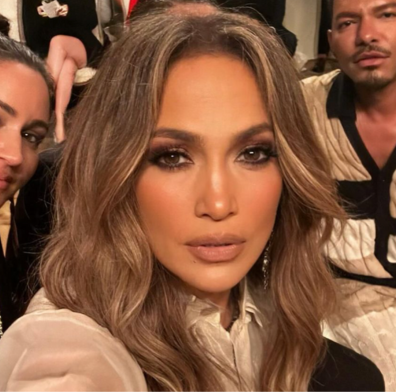 Next, apply a lip gloss instead of lipstick to diffuse the liner and keep it from looking too harsh. Think sheer, nude, peach or my personal favourite – plum.
3 Dupes For The Anywhere Anywhere Caffeine Lip Liner
While this multifunctional liner is pretty cool, I know how much it can hurt your heart to pay more than required for a beauty product. So I've got your back with some pretty similar dupes, for half the price!
All our lips have a unique shade and definition—there's no one-size-fits-all in beauty. However, J.Lo lips are something we can all aspire to recreate in our own special way. It should be even easier now that you know which products to use! 
Featured Image: Instagram