Some bloggers really know how to put the "F" in fashion. Ishita Mangal is one of them. The fashion influencer always impresses with her killer fits and on-point styling. Well, what if I said you can now cop some of the clothes from Ishita's closet at super slashed prices? Yes, that's happening.
Ishita just took to her Instagram stories and announced that she'd sell some of the clothes from her now-defunct fashion label. For the unversed, she is a NIFT graduate and started her fashion career with a designer brand called QUO. Simultaneously, Ishita also started a blog to showcase her creations and became a big name in no time. While she was creating epic clothes, there was no time left to dedicate to the business after a while. Ishita, however, still has 200-300 garments left in the inventory and 98% of the clothes have never been worn.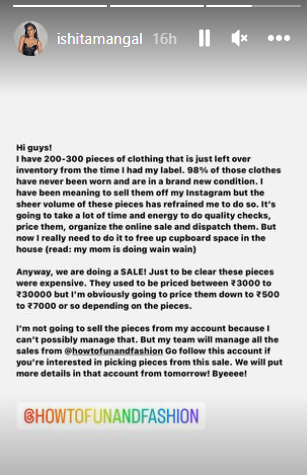 "I have been meaning to sell them off my Instagram but the sheer volume of these pieces has refrained me from doing so," Ishita wrote in her recent Insta post. She then announced a mega sale that will take place on a brand new Instagram handle called How To Fun And Fashion.
"Just to be clear these clothes were expensive. They used to be priced between Rs 3000 to Rs 30,000 but I'm obviously going to price them down to Rs 500 to Rs 7000 or so depending on the pieces," Ishita wrote in her post.
If you ask me, that's a steal. You can check some of the clothes from Ishita's label on Pernia's Pop-Up Shop and every single separate looks stunning. It is the crisp pleating details that specifically have my attention.
Well, Ishita's sale goes live today on her new Insta page and rest assured, I'd be glued to it. Definitely ordering some of them beauties!
Featured Image: Instagram