Durga puja is one of the most celebrated festivals across India. It begins on the 6th day of Navratri and is celebrated till Dussehra. Primarily celebrated amongst Bengalis, the festival is all about families coming together and participating in auspicious pujas, rituals and cultural programs. As was the case last year, Durga puja 2021 too will be a subtle affair owing to the pandemic. But that shouldn't stop you from sending Durga puja wishes to all your loved ones. Check out our curation of Durga puja greetings, Durga puja status, Durga puja quotes, and Durga puja messages.
Happy Durga Puja Wishes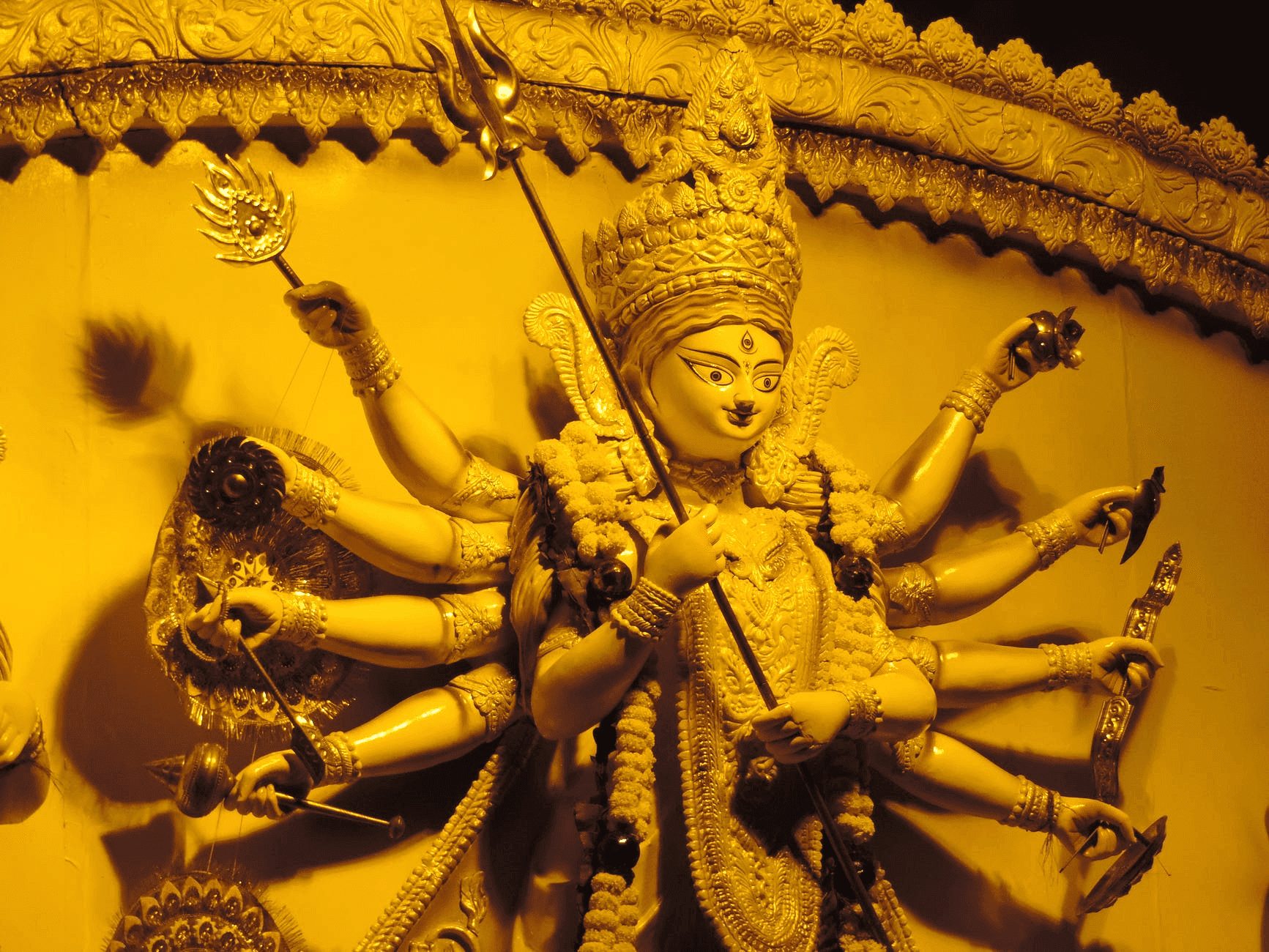 Select one of these Durga puja wishes for 2021 to share with your family and friends.
Happy Durga Puja. May the colorful festival bring joy and happiness in everyone's life.
Wishing a lovely Durga Puja full of happiness and prosperity. Best wishes to everyone.
I wish Goddess Durga to come home with good luck and her eternal blessings. Happy Durga Puja.
Let's welcome Maa Durga and thank her for all the blessings we received this year. Happy Durga Puja.
May the Goddess protect you and your family from evil. Wishing you a colorful Durga puja.
Chaitra Navratri Wishes in Hindi
May Maa fulfill all your wishes. Wishing you a blissful Durga Pooja.
May the divine blessing of Maa Durga always be with you and your family. Have fun at the biggest festival that we ever have! May Maa Durga bless you.
Having you in my life is the biggest blessing of all. I keep thanking Maa every year because of this blessing. Happy Durga Puja to my beloved one!
It is time to welcome Maa Durga and celebrate for all the glory and blessing – she has blessed us throughout the year! Let's make this Durga Puja a memorable one.
10. You are so lucky to celebrate every Durga puja with an awesome friend like me. You should be thankful for this gift. Wish you have a good time!
11. It's surprising to see that some people like you get to celebrate every Durga puja every year. There must have been some special blessings for you from Maa!
12. There is another world outside the walls you live in. If you choose to come out you can see how colorful it is right now. Wishing you a great Durga puja!
Happy Durga Puja Quotes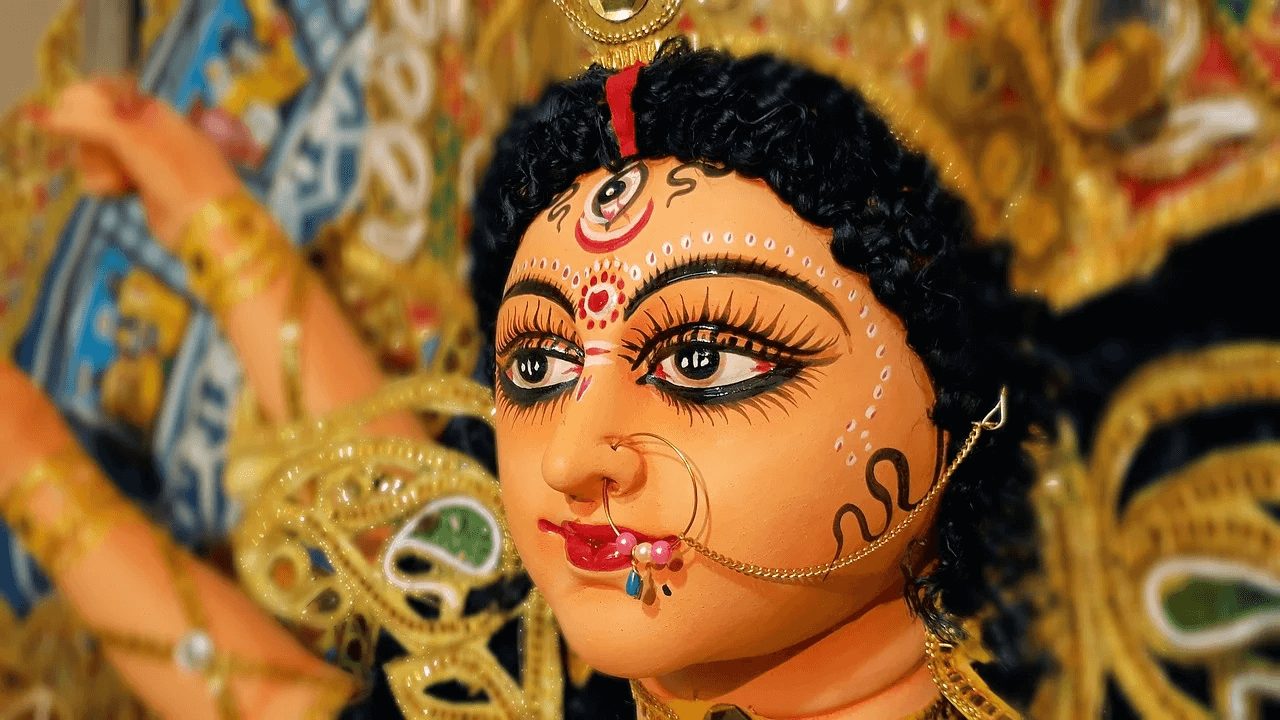 Send these Durga puja quotes to your Bengali friends on the auspicious occasion.
May Goddess Durga show us the path to eternal peace and prosperity. May she bless us with the strength to defeat the evils in our life!
May goddess Durga protect your family from evil and empowers you with the light of knowledge and truth. Happy Durga Puja to you and your family.
May the divine blessings of Goddess Durga bring eternal peace and happiness and protect you from the wrongdoings and grant all your wishes. Happy Durga Puja to you and your family.
On the auspicious occasion of Durga Puja, I wish that the festivities bring immense joy and happiness to you and your family. Happy Durga Puja!
Everyday the sun rises to give us a message that darkness will always be beaten by light. Let us follow the same natural rule. Happy Durga puja.
6. May Maa Durga bestow upon you and your family nine forms of blessings- Fame, Name, Wealth, Prosperity, Happiness, Education, Health, Power, and Commitment. Happy Durga Puja.
7. As an honour to Goddess Durga, let us spread happiness and joy all around us. Happy Navratri!
8. May the generous goddess Maa Durga brighten your life with countless blessings. I hope your prayers bring happiness and prosperity. Happy Chaitra Navratri 2020 to you!
Happy Durga Puja Status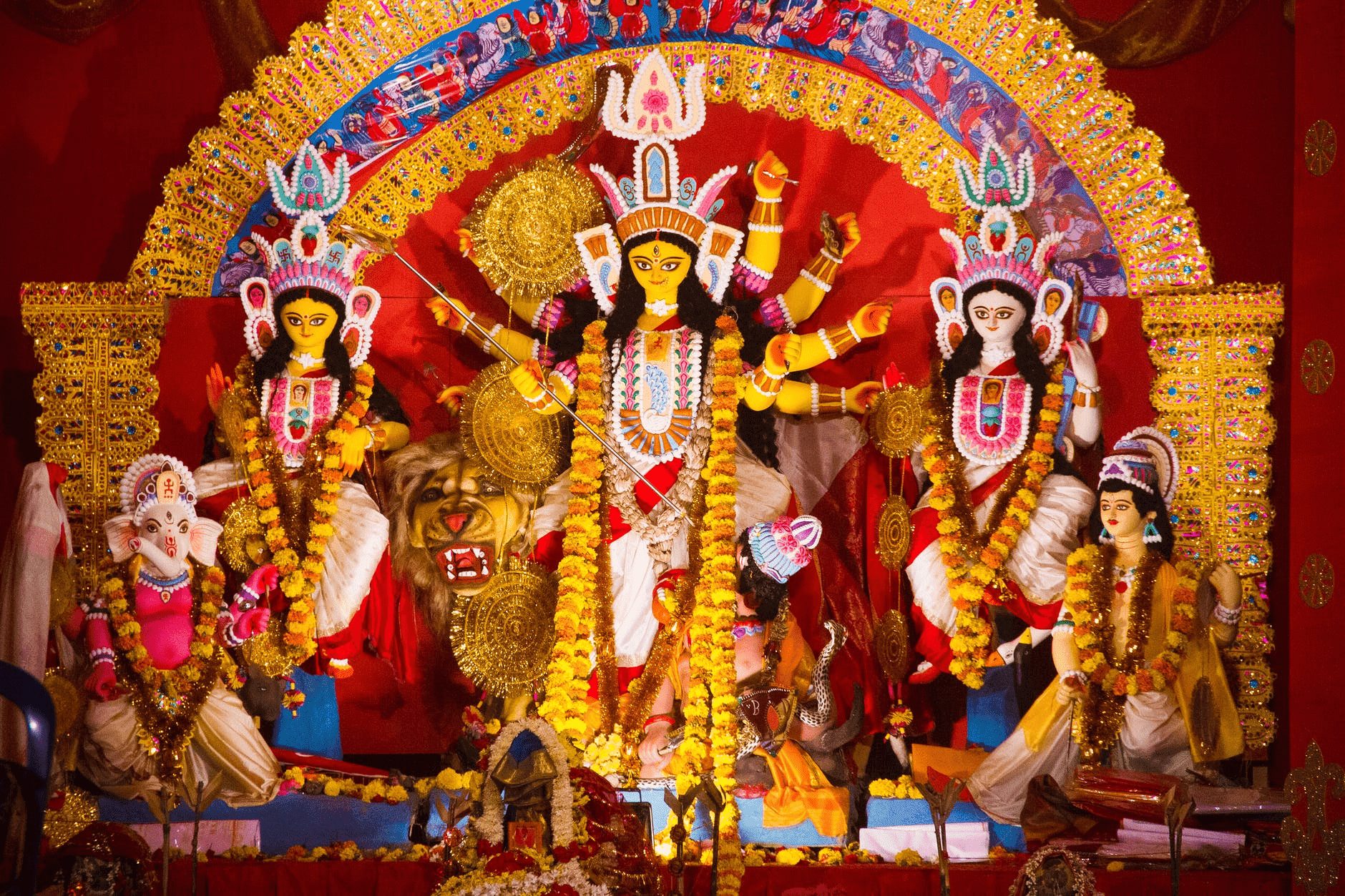 In today's time, putting up a status has become mandatory! Here are the best Durga puja statuses for you to share.
I hope Maa gives you courage and strength to face all the odds in life and showers your life with unlimited happiness. Wish you a very enjoyable Durga puja!
May you have the best Durga Puja this year. May the blessings of Maa sweep you away to the land of eternal happiness. have a great time with your family!
Let go of all of your worries. Put a smile back on your face because the goddess Durga has arrived to make your life incredibly awesome. Happy Durga Puja 2020!
Maa Durga has finally arrived with a deep blue sky and a wind so comforting. Do you know what else she brought? A lot of blessings for you! Wish you an amazing Durga puja!
The goddess of power, strength, and truth has arrived once again with the promise of a joyful year ahead. Welcome her with the warmth of your heart and let the celebration begin!
6. May the goddess shower you with a lot of blessings and good health and wealth. May you enjoy every bit of this festival. Happy Navratri!
7. May the hues, beauty, bliss, and happiness of Navratri stay with you forever. May Maa Durga fulfill all your desires. Happy Shardiya Navratri 2021!
8. May these nine holy days of NavDurga Puja enlighten the lives of you and your family. May you all receive the blessings of Devi Durga this Navratri. Happy Durgotsav
Happy Durga Puja Messages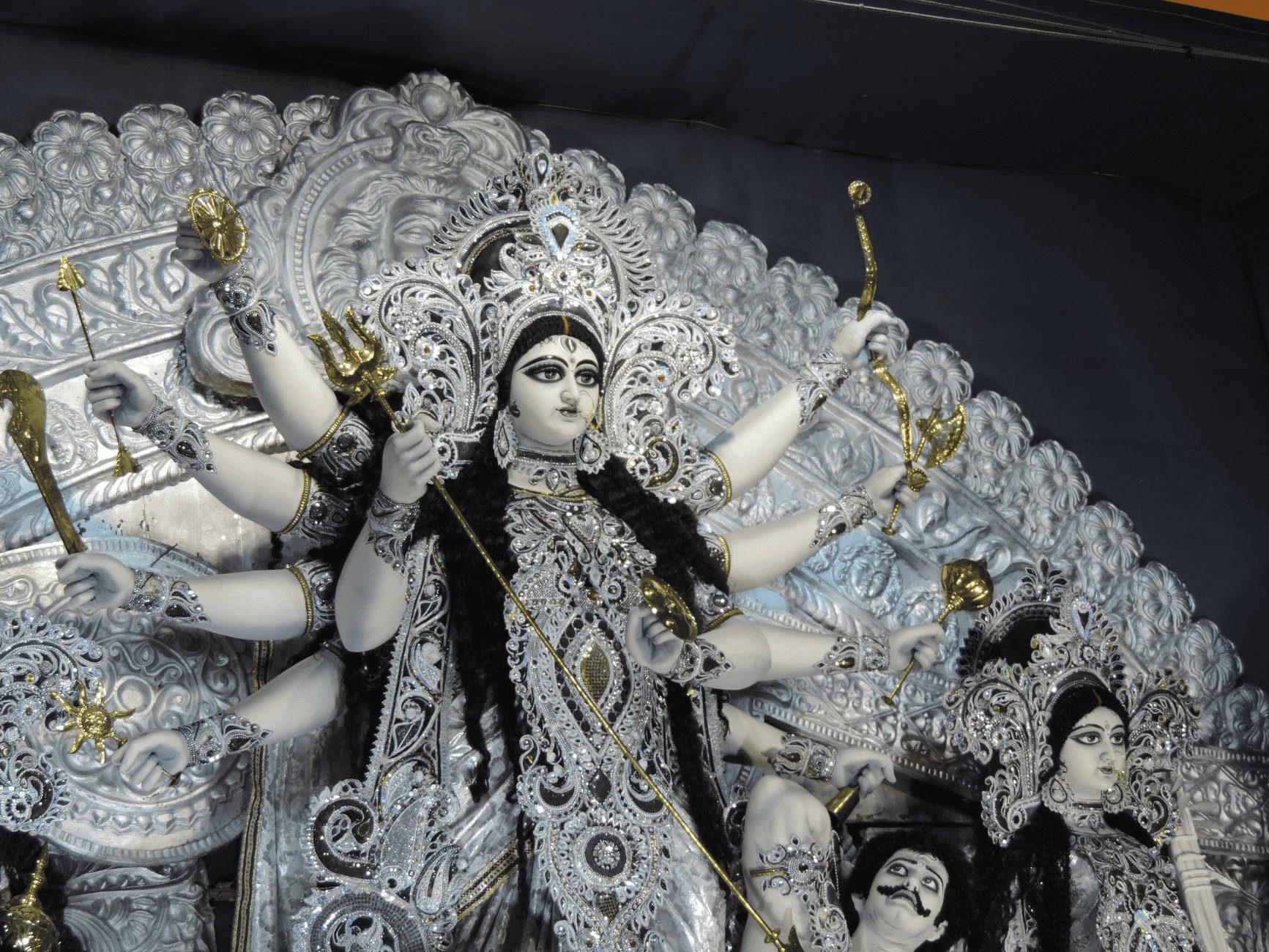 We have got the best Durga puja messages for you to pick form.
May this Durga Puja bring success and prosperity your way. May you be blessed by strength and courage. Have a beautiful Pujo day.
Enjoy the journey of life
Mile after mile
Maa Durga will bless you
Smile after smile
Happy Durga Puja
May Maa Bless You With Happiness All The Year Through. Wishing You A Happy Durga Puja
During Durga Puja, the sound of Dhak seems to be out of rhythm. For you are not with me. Thinking of you and missing you…
Wishing that Goddess Durga empowers you and your family with name, fame, success, and joy. Happy Durga Puja.
6. I hope Maa Durga blesses you with all the good things and helps you face all the challenges in life. Have a great time at one of the most beautiful festivals on the earth! Happy Durga Puja.
7. May Maa Durga protect our family and keep us safe and sound. May she remove the obstacles from our path. Wishing you a happy and prosperous Durga Puja.
8. I pray to Maa Durga for your better health and a better mind. Thank you for always being the most understanding and supportive one in my life! Happy Durga puja.
Happy Durga Puja Greetings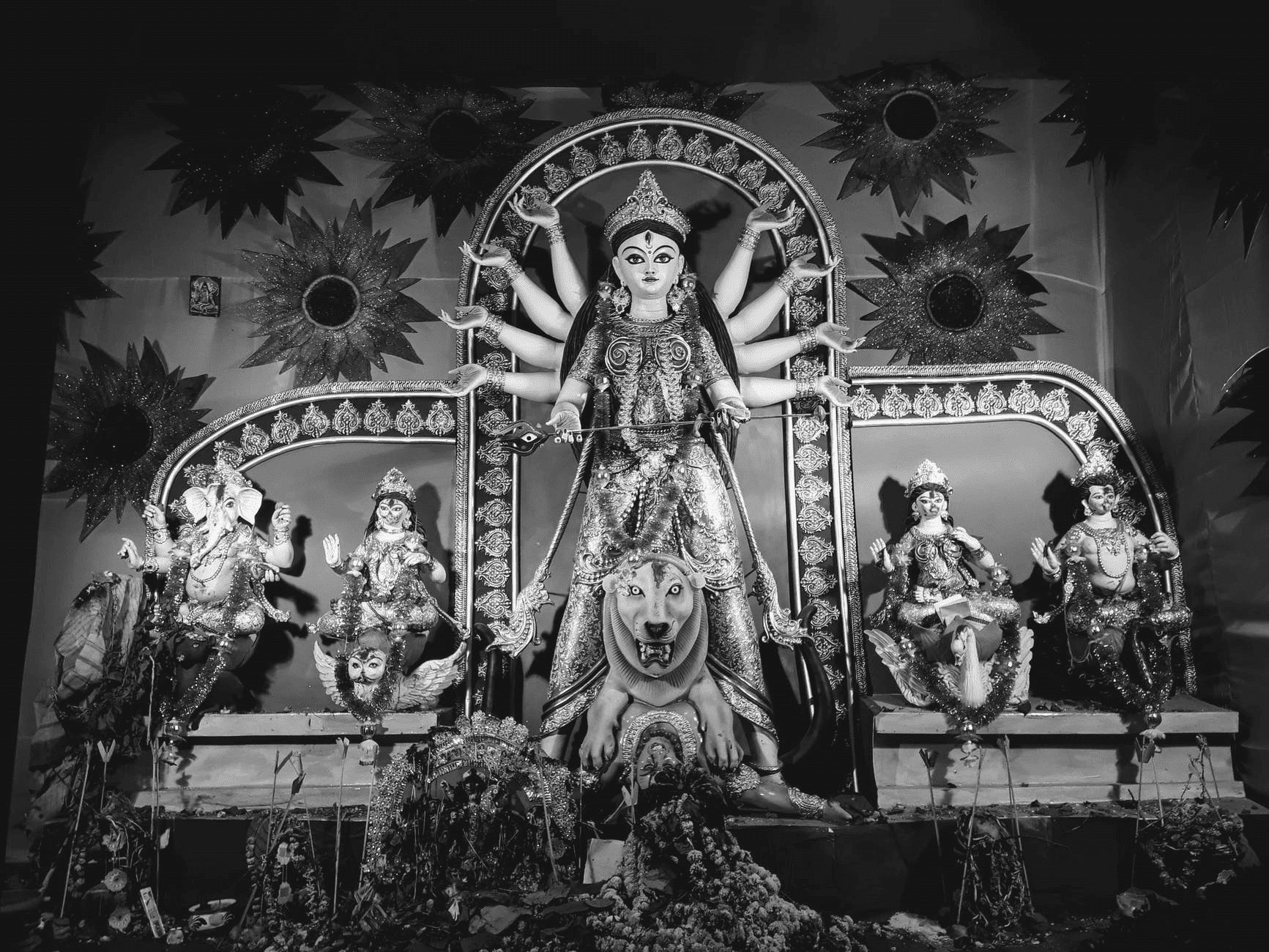 Here are the best Durga puja greetings to choose from.
On the auspicious occasion of Durga Puja, let our hearts be full of gratitude and love for each other. Happy Durga Puja!
Happy Durga Puja! May this autumn festival bring joy in everyone's life!
Wishing you a lovely Durga Puja, full of cheer and prosperity. Best wishes! 
Let's get together on the auspicious day of Durga Puja and cherish the moments of togetherness. Happy Durga Puja!
May the divine blessings of the goddess be with you on Ashtami and always. Wish you a Happy Durga Puja!.
Sending my warm wishes for a Durga Puja that brings you good fortune and success. May Goddess Durga shower her choicest blessings on you today and forever…
Fortunate is the one who has learned to admire, but not to envy. Good wishes for a joyous Navratri, with plenty of peace and prosperity.
Sarva mangala mangalye, shive sarvartha saadhike, sharanye triambake gauri, narayani namostute.
Everyday the sun rises to give us a message that darkness will always be beaten by light. enjoy the festival where good defeats evil. happy durga puja.
10. Maa Durga has already blessed me in this lifetime by getting me associated with you! May she bless us all with good fortune and keep us healthy. Happy Durga Puja.
11. On this graceful occasion of Durga Puja, I pray to Goddess Durga to bless you with success, power, strength, happiness, and joy. Wishing you a very great Durga Puja.
12. Let's be happy and welcome Maa Durga into our house with great feasts and Garba. May this Durga Puja and Navratri be the best of them all. Happy Durga Puja.
Indian festivals definitely bring joy and enjoyment along with its culture, and when we connect our loved ones with these happy Durga puja wishes, not only the bond grows stronger but also we feel positive too.
Related Stories
Ahoi Ashtami Wishes And Quotes: As we inch towards celebrating the festival, click here to read through some of the best, and heartfelt happy Ahoi Ashtami wishes.
Karwa Chauth Captions For Instagram: Looking for Karwa Chauth captions for Instagram? Don't Fret! Here're a few heartfelt ones that hit all the right notes!
Navratri captions for Instagram: Where are you going to find some fabulous captions? It's here, hit the link.
Durga Puja Captions for Instagram: Looking for some heartfelt durga puja captions for instagram? Well, we have got you covered!
Diwali Captions for Instagram: For all those festive party photos, we've got the ultimate list of Diwali captions. Go ahead, pick your fave and start posting.
Best Navratri Wishes: We have curated a list of the best Navratri wishes and Navratri status for you to share.
Durga Puja Festive Outfits: Need fashion ideas for Durga puja? Just go ahead and check this out.
Durga Puja Makeup Look By Stars: Need some inspiration for the best makeup look for Durga puja? Check out what our Bollywood celebrities swear by.
How To Celebrate Durga Puja: If you are new to Durga puja celebrations, and want to know how to celebrate it, then check this out.
Wishes for Janmashtami: Looking for wishes for janmashtami? Here are some of them that you should look forward to!
Guru Nanak jayanti quotes: Nobody wants to miss out wishing their family members and friends right? Therefore, our Guru Nanak Jayanti quotes have got you sorted!
Karwa Chauth messages: Need some creative lines for sending karwa chauth messages? Hit the link now.
Pongal Quotes : Celebrate this pongal with your loved ones using these quotes to wish them.
Share these happy Durga puja wishes and spread the joy.
Featured Image: Unsplash