Hailey Bieber & Selena Gomez's Beauty Looks Prove That Queens Think Alike
There may be a lot of controversy surrounding Selena Gomez and Hailey Bieber RN, but these two gorgeous ladies have no bad blood between them. The fact is that they simply share similar tastes in hair and makeup and they both slay these trends in their own ways.
I've compiled a list of their best matching looks to prove they're both fabulous beauty icons in their own right.
Blonde Hair Don't Care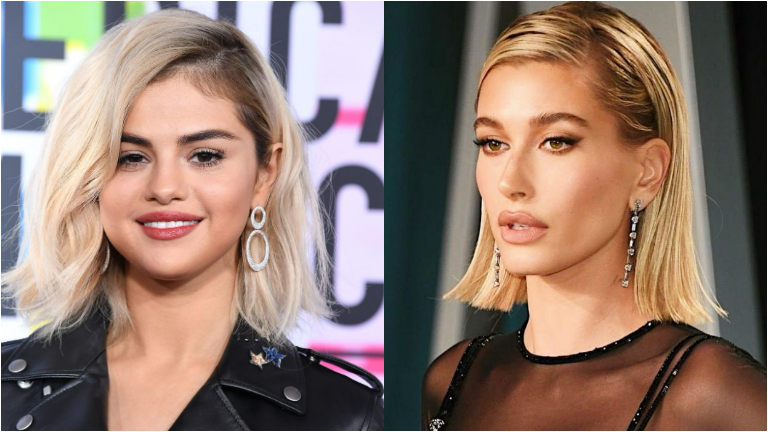 Credits: Selena Gomez, Hailey Bieber
Selena and Hailey both sported the same hairstyle and hair colour and they both slayed. The blonde bob had a big moment when both the divas opted for it a few years ago!
Play it safe by using a temporary hair colour product like Anveya Colorisma Champagne Gold Temporary Hair Color first, before going all out and bleaching your hair.
Messy Updos FTW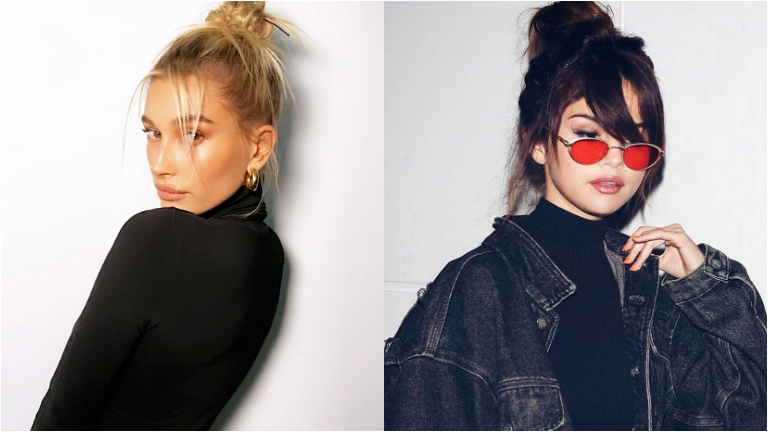 Credits: Selena Gomez, Hailey Bieber
Both beauty moguls rocked the messy bun with bangs and I think they look amazing. Hailey opted for a more slicked finish while Selena let her natural messy texture shine through.
I reach for the Schwarzkopf Professional Osis+ Sparkler Shine Spray for when I want my hair as shiny as theirs.
Feelin' Peachy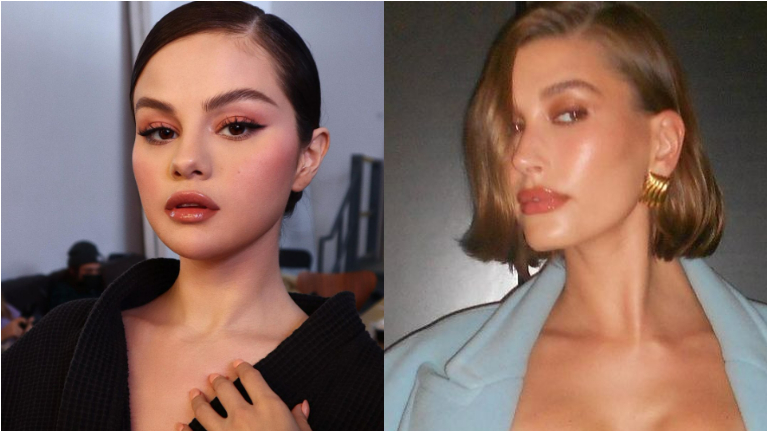 Credits: Selena Gomez, Hailey Bieber
Both the divas also had a peach makeup moment and opted for a monochrome look with the shade.
I find peach tones to be extremely refreshing, especially on Indian skin tones. The MyGlamm Lit Lip & Cheek Rouge – Peach Play on my lips, lids, and cheeks helps get a glow like theirs.
Visions In Pink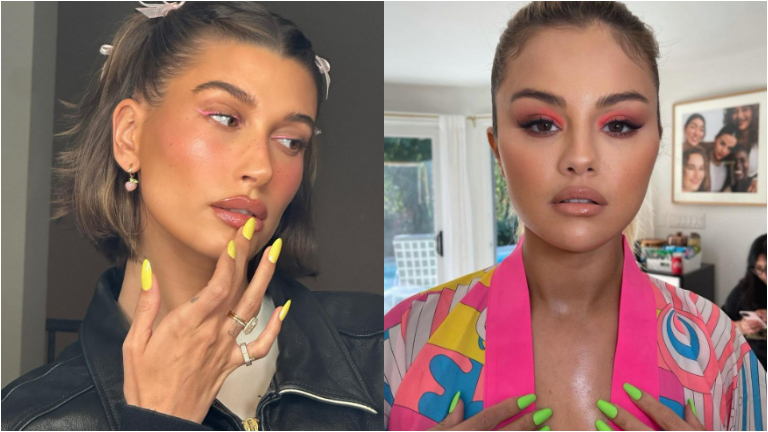 Credits: Selena Gomez, Hailey Bieber
I love how Hailey and Selena played with bright pink eye makeup. While Hailey went for a pastel eyeliner look, Selena accentuated the inner corners of her eyes with a neon pink hue. Note: they both have neon nails too.
The POPxo Makeup Collection Liquid Eyeliner Kit – Issa Vibe is my favourite product and has the same eyeliner shade as Hailey's!
Credits: Selena Gomez, Hailey Bieber
Latex Red Lips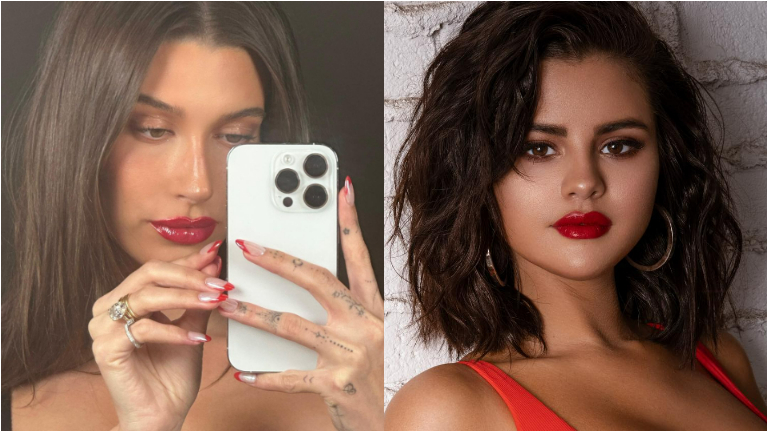 Credits: Selena Gomez, Hailey Bieber
Red lipstick is amazing, but when layered with a gloss, it looks even more sultry. Selena and Hailey both believe in the power of this lip trend. They sported the look at different times and how!
To get latex red lips like Selena and Hailey, I top off my red lipstick with the Type Beauty Soak It Lip Lustre For Dry Lips – Salty.
Selena Gomez and Hailey Bieber clearly love the same beauty trends and I can't wait to see what they sport next. It's going to be the next big thing!
Featured Images: Instagram
© 2023 THE GOOD GLAMM GROUP