Deepika Padukone Talks About Going Makeup-Free But Gets Brutally Trolled
Deepika Padukone is currently on a roll and we are loving it! From being a presenter at the Oscars to getting featured on the covers of international magazines, she's doing it all. However, she'd always be known as one of the finest actors of the generation before anything else. From Padmavati to Veronica, DP has ruled with some of the most iconic women characters. The actress recently opened up about her favourite role so far.
In a recent interview, the Bajirao actress talked about how her character Piku is similar to the way she is in real life. She also mentioned how one can also actually see her real skin in the movie, for which she hardly sat in a makeup chair for more than 15-20mins. She shared, "I think a character that I've played that is very similar to the way I am in real life is probably Piku. Just very very natural. You could literally see the skin in the movie. In fact, I'd sit in the makeup chair for not more than 5 or 10 minutes, including hair and makeup. And I think that's one of those films where I felt completely…you know like myself." 
While her interview was quite insightful, netzines couldn't look beyond her full-fledged makeup look in the video and how it contradicted with what she said. They also took it as an opportunity to mock her makeup. One wrote, "I just looooove deepika but wtf is this look!" another person commented, "Talking about less makeup by wearing dozen layers of makeup 😂😂 @deepikapadukone I mean I like you but this doesn't mean sense." Here are some of the comments: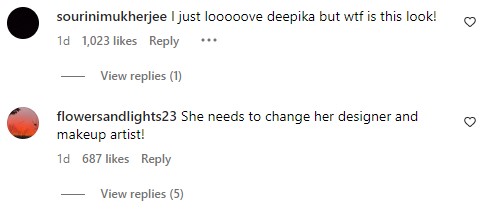 In all honesty, Piku was a character that was relatable and resonated with most of us. And as DP said, it was her simple styling in the movie that was the icing on the cake. TBH, I love Deepika in all her avatars be it with makeup or without it. And as far as the makeup in her interview is concerned, I kinda dig it. So fresh and unique!
Featured Image: Instagram
© 2023 THE GOOD GLAMM GROUP