Getting engaged to your life partner is one of the most beautiful feelings ever. The ring ceremony makes it official to everyone out there that you two are now set to be husband and wife. Even if you're not the one for grand functions or elaborate proposals, a simple exchange of rings is just as memorable. The highlight of the day being, of course, the rings! 
The good news is that there are plenty of ring designs for couples to choose from and if you prefer complementing jewellery, then you must check out our selection of couple ring designs. Whether you're looking for something minimalistic or traditional gold ring designs for couples, we have curated a list of the best for you. 
Gold Couple Ring Designs
Gold rings are the most traditional style of rings and are usually the most common ring design for couples. But don't be fooled as some gold ring designs for couples can be extremely unique as well. So go ahead and check out some of the best couple ring designs below: 
Bold & Intricate Patterns
This couple ring design in gold has a bold and intricate pattern and we're all for it. We love the hint of black that adds dimension to the ring and if you were looking couple ring designs in gold, we say your search ends here!
                                                 Also read: couple tattoo designs
Plain Bands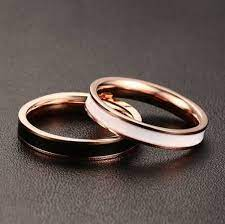 While gold ring designs for couples with simple patterns are always a good choice, if you are someone who likes to keep it to a minimal, then nothing better than plain bands for you. Simple, stylish, and versatile, bands are sure to be in trend always. 
Glitter Rings
This set of gold ring designs for couples are a real example of bold and beautiful. The wide bands have a heart cutout and heartbeat patterned on them but honestly, that's not the best part about the rings. The coarse layering is what we are loving! 
Silver Couple Ring Designs
While gold couple ring designs are incredibly traditional, couple rings in silver are always a good option for everyday wear. Moreover, if you are looking for ring options in an affordable price range, couple ring designs in silver are your best option.
Solitaire Rings In Silver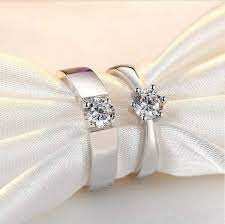 Silver rings are beautiful when combined with solitaire or similar gemstones. You can choose simple couple rings in silver that have a single gemstone embedded on them. Don't these rings look elegant and simple yet extremely beautiful?
Open Bands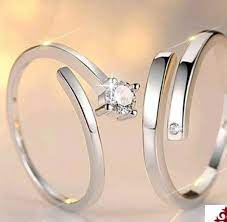 Rings are traditionally supposed to be enclosed circles but if you are someone who likes it unconventional, then open bands are the perfect option for you. Couple ring designs in silver are plenty and you'll find a plethora of modern options to choose from. 
Forever Rings for Couples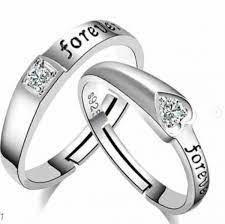 Just like the rings inscribed with 'Love', these couple rings in silver are extremely elegant and have 'Forever' inscribed on them. If you are in college and have found the love of your life, then these stunning rings are the perfect pick for you.
Latest Couple Ring Designs
If you are not someone who is looking for traditional rings but still want to find something in gold or silver, then you must look at these stunning ring designs. The latest couple ring designs, you'll want to buy them asap. 
Entangled Rings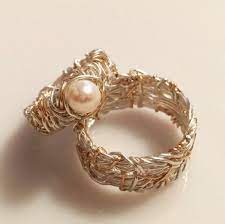 Pearls are evergreen and this beautiful entangled pattern has our hearts. If something delicate and modern is on your mind, this design is one to bookmark. 
Infinity Rings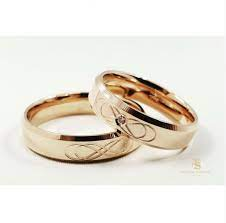 Infinity is the symbol of love and romance when talking of latest ring designs for couples, this one has to find a mention!
Cute Couple Ring Designs
We're bringing you cute couple ring designs for the adorable pair that just can't get enough of each other. Scroll ahead!
Matchy-Matchy!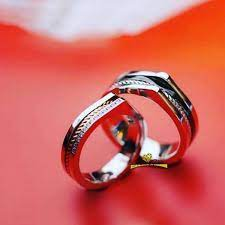 If you want to wear the exact same design as your partner's, then choose a ring that unisex. This design does it for us! 
Heart Ring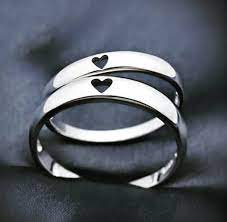 If you are in love with this cute couple ring design that has a heart-shaped cutout, then you're in the same league as us. Adorable, isn't it?!
Simple Couple Ring Designs
If you are looking for minimalistic and simple ring designs then these options will surely blow your mind. These ring designs are pretty simple, lightweight, and perfect for everyday wear.
Complementary Rings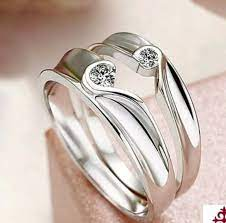 Complementary rings are extremely simple as well as a popular choice among couples as these rings are incomplete without one another. Yes, these are the rings that can only be worn by couples as their designs are complementary and become complete together. If you are looking for something simple as well meaningful, then try these complementary rings.
Unique Couple Ring Designs
Every couple wants a unique ring that represents their unique love story. If you are also looking for a unique couple ring design, then look no more! 
Black Rings for Couples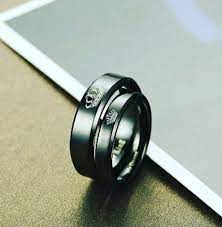 Black represents power, strength, and boldness. If that's what your love represents, then this unique ring needs to be on your fingers STAT!
Couple Ring Designs With Names
One of the most popular choices of rings for couples is customised rings with names of your partners imprinted on them. They make your love for your partner transparent and prove that you are not shy of a little PDA when it comes to your lover. If you are someone who loves a little PDA every now and then, then check out the suggested couple ring designs.
Ring Design With Name for Couples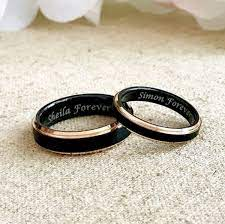 This stunning black ring with names imprinted on the inner side is an absolute stunner and if you are looking for something that is chic, fashionable and represents your love in a beautiful way, then this black ring with the name of your partner is the right pick for you.
More Couple Ideas
Best Engagement Rings: If your engagement is around the corner and you're looking for some beautiful diamond engagement rings, we've got 15 stunning diamond rings to inspire you! Don't forget to share your faves with him! *wink*
Engagement Rings For Unconventional Brides: If you've been desperately looking for one that suits your vibrant and fun personality, well here's some inspiration. Check out these 10 engagement ring designs for the girl who is anything but boring!
Couple Tattoo Ideas: From small, simple couples tattoos that can barely be seen to unique couple tattoo designs which tell the world that you're in love — there's something for everyone. If you and your partner are planning on getting inked, here are a few couple tattoo ideas you'll love.
Facebook Captions For Couple: Believe it or not, but in the age of social media, your captions need to be perfect! To help you out, here are some ideas!
Couple Poses Idea: Just so you have a lot of fun posing when the time comes, here's some inspiration. Check out these 10 couples who are giving us some major #CoupleGoals!
Featured Image: Unsplash