4 Grand Forts & Palaces Celebs Chose As Their Wedding Venues
Following a celebrity wedding is like watching a real-life fairytale! I enjoy the larger-than-life appeal and like to keep a close eye on interesting details, especially the luxurious venues!
Off late, celebrities are inclining towards grand forts and palaces. These properties are stunning and situated away from busy cities which gives them enough privacy and space. The latest Sid & Kiara wedding pushed me to revisit some of these destinations that are celeb-approved.
P.S. Take notes 'coz you don't need to get married to experience these majestic properties.
Suryagarh Palace, Jaisalmer—Kiara Advani & Sidharth Malhotra
Called the 'Gateway to the Thar Desert', Suryagarh lies on the outskirts of Jaisalmer. Sid and Kiara's luxurious wedding venue has beautifully blended traditional architecture with modern amenities. The palace has two splendid gardens and airy courtyards with 83 rooms. The property also has an indoor pool, gym, as well as a spa. 
You can indulge in delectable dishes at their lake garden or enjoy performances by world-acclaimed folk artists.
Unique attraction: The property features a bawadi inspired by the traditional step-wells of Rajasthan. Reportedly, Kiara and Sid's mandap was created in this bawadi.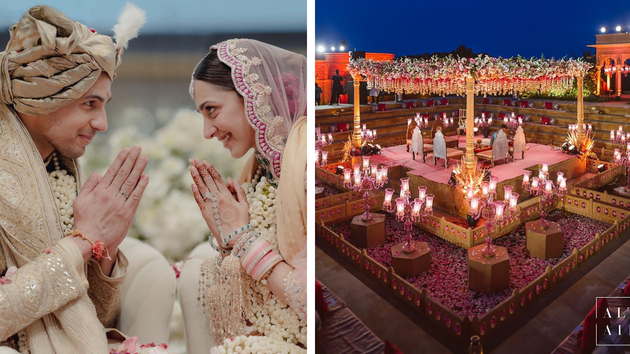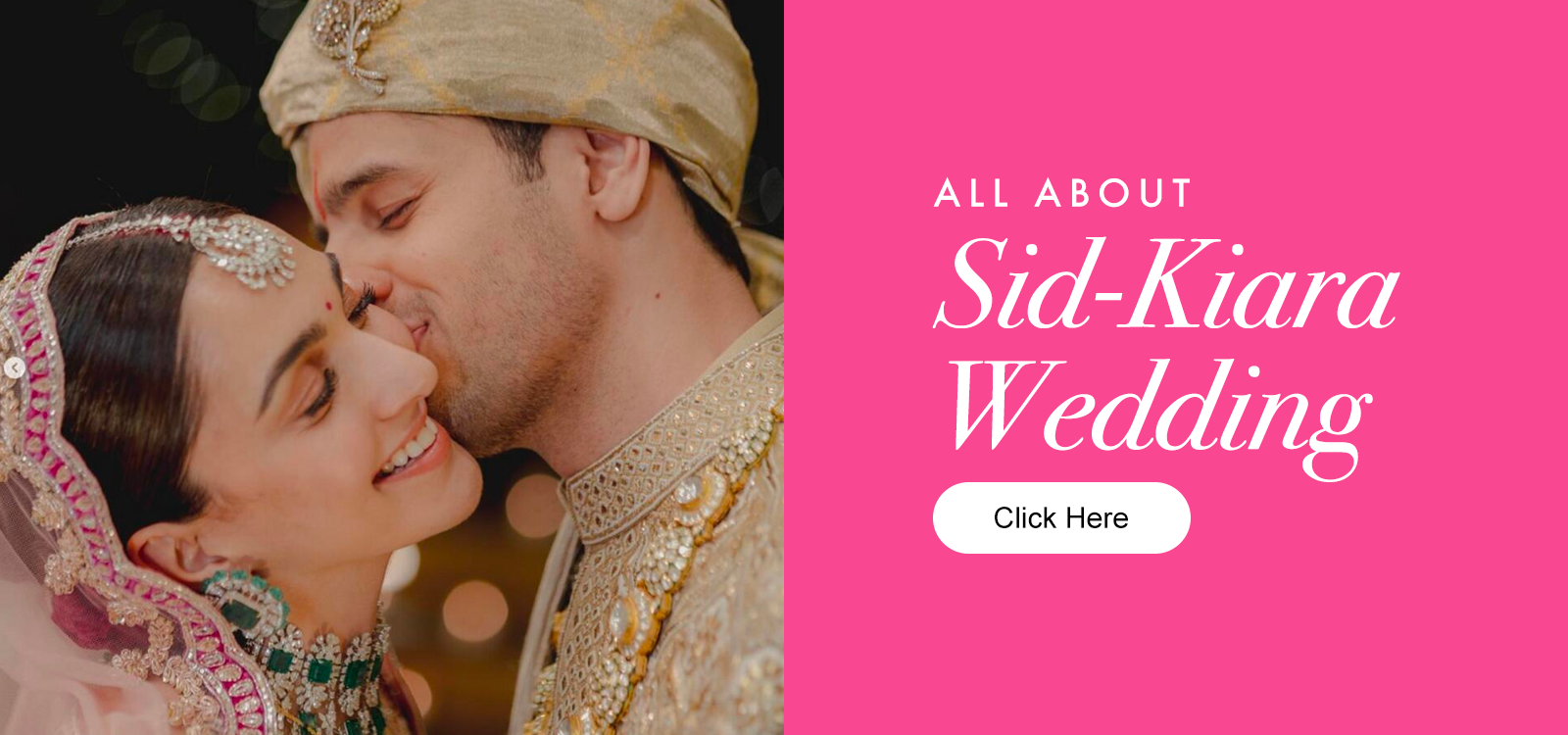 Six Senses Barwara, Rajasthan—Katrina Kaif & Vicky Kaushal
Katrina Kaif and Vicky Kaushal got married at Six Senses Fort Barwara in 2022 and it was a grand affair. The beautiful 14th-century fort is situated near a tranquil lake in Rajasthan.
The 700-year-old palace gives you a glimpse of the forgotten era. Combine it with the modern amenities and you'll know why it is a top pick for big fat destination weddings!
Unique attraction: The heritage walks around the picturesque palace will take you back to the olden times. Anecdotes and horticulture activities are the main elements of the property tour.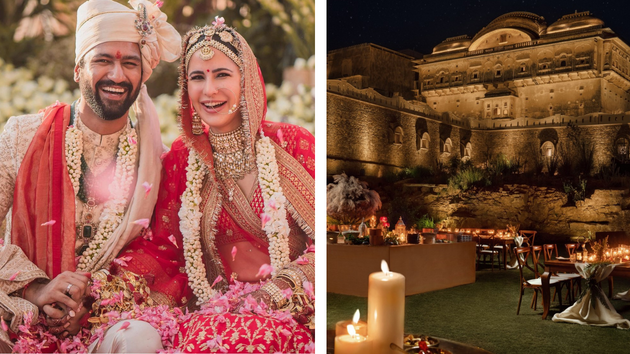 Umaid Bhawan Palace, Jodhpur—Priyanka Chopra & Nick Jonas 
Priyanka Chopra tied the knot with Nick Jonas in 2018 at Umaid Bhawan Palace. The magnificent property is located in the heart of Jodhpur and spreads across 26 acres of land. 
Umaid Bhawan belongs to Udaipur's erstwhile royal family and a portion of the property is managed by Taj Hotels. It is recognised as the world's sixth-largest residence. It comprises lush gardens, 70 rooms and suites, spas, and a unique hunting-themed bar, among other attractions.
Unique attraction: Guests at Umaid Bhawan can opt for a heritage tour of this property. You will get to sit in the royal family's vintage cars and experience the city!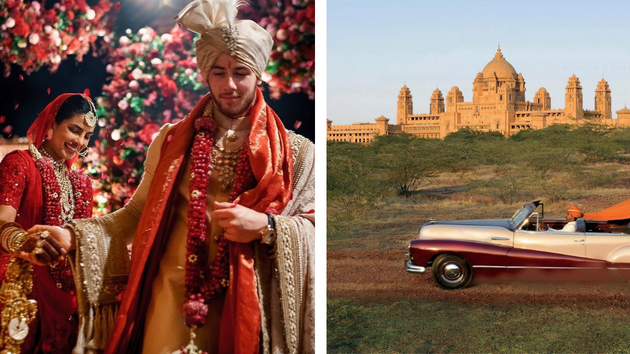 The Mundota Fort & Palace, Rajasthan—Hansika Motwani & Sohail Kathuria 
Koi Mil Gaya fame Hansika Motwani got married in December 2022 at the Mundota Fort & Palace. It is a 450-year-old property and spreads across 25 acres of land.
Situated against the backdrop of a hilltop fort, it has an open courtyard, terrace, and lush gardens. Guests can enjoy the peace as well as peacocks, a main attraction here. The luxurious property comprises 125 rooms divided between the palace and the hilltop fort. 
Unique attraction: The property features a world-class polo and stable facility. Their polo matches are something to look out for. If that's not your thing, a horse safari through the wilderness will keep you busy.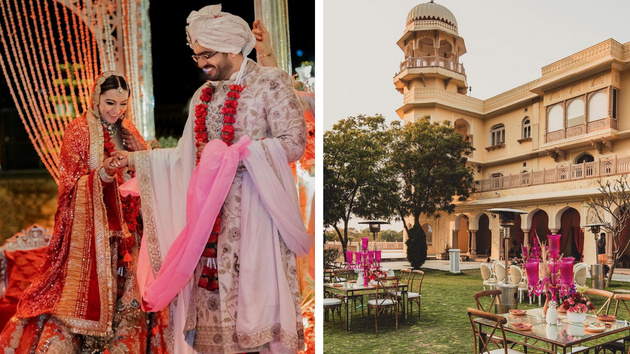 Well, these luxe properties really put the "big" in big fat celeb weddings. Don't they?
Featured Image: Instagram


Excited about the #SiaraWedding? Read On!
6 Breathtaking Details From Kiara Advani's Bridal Look!
Sidharth & Kiara's First Look Is Out & My Heart Is So Full
Meet The Family: Everything To Know About Sid & Kiara's Khaandaan!
Updates From Sidharth & Kiara's Wedding Are Here
© 2022 THE GOOD GLAMM GROUP