Caramel Popcorn Bodycare? Yes! Make Way For The Quirkiest Bodycare Brand On The Block
Is it really bodycare if it doesn't make you feel immensely pampered and happy? Well, Plum BodyLovin has got you covered with its all-new Caramel Popcorn bodycare collection.  It's unlike any other bodycare range you might have encountered before! It's luxurious, nourishing, moisturising and most importantly, it smells delicious. Trust us, when we say delicious, we mean you'll-struggle-to-not-eat-yourself kinda delicious!
Plum BodyLovin' has a reputation for creating yummy-smelling products. Their signature fragrances such as Hawaiian Rumba, Vanilla Vibes & Trippin' Mimosas had already won India's heart. However, we think they've outdone themselves with the new Caramel Popcorn range. It's sweet, with the right balance of salty & just the perfect amount of sassy 😊 Bonus points? The packaging is adorable. A caramel popcorn tub-shaped gift set—why didn't anyone think of this before?
Introducing The Plum BodyLovin Caramel Popcorn Bodycare Collection
What's better than eating a snack? SMELLING LIKE ONE!
Plum BodyLovin's Caramel Popcorn bodycare collection consists of three delish products—a body wash, candle, and hand cream. The collection's scrumptious aroma will remind you of caramel sauce drizzled over steamy popcorn and will tempt you to indulge in a bodycare sesh every single day. Once you add this kit to your bodycare routine, you'll never go back to any other product. The downside? Your girlfriends won't stop asking you to spill your new beauty secrets! *wink*
The range also has a gift kit, shaped like a caramel popcorn tub with all three products. So it's time to say goodbye to boring gifts like chocolates and flowers—Plum BodyLovin' has got you sorted with this one-of-a-kind gift.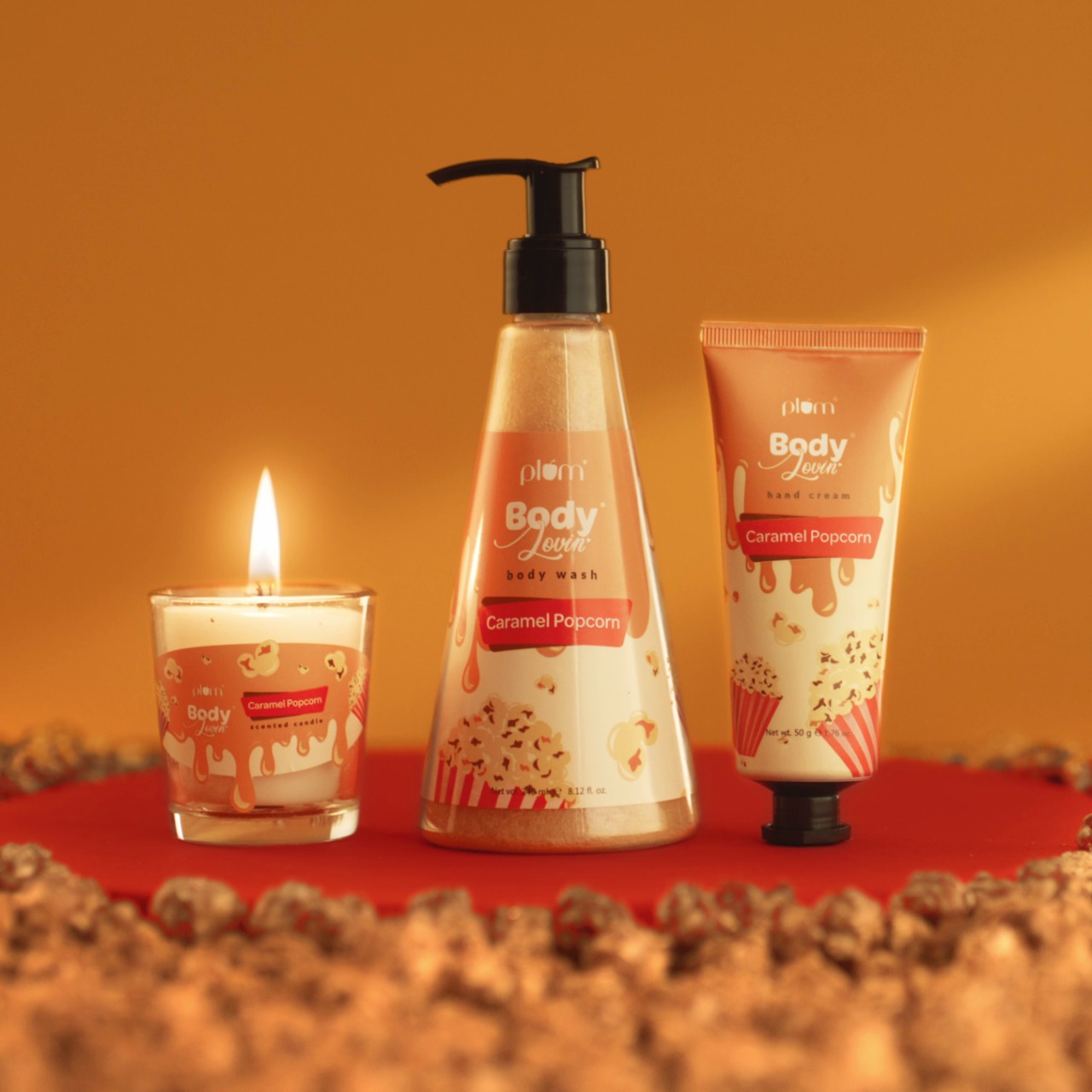 It is hard to pick our favourite from this ultra-luxe bodycare range—the delicious fragrance of caramel popcorn, the soothing feel of the products and the cute packaging that will cheer you up right away. All the products have caramel popcorn packaging that will surely make you look forward to your bodycare sesh and some much-needed me-time. The products contain shea butter and sunflower seed oil, which means hello soft skin and bye-bye dryness! 
Trust us, you won't be able to resist the sweet aroma. Pssst…here's a secret: the scent is so long-lasting, that you probably won't need to use perfume for a couple of hours when you layer products in the range. 
Everything You Need To Know About Plum BodyLovin'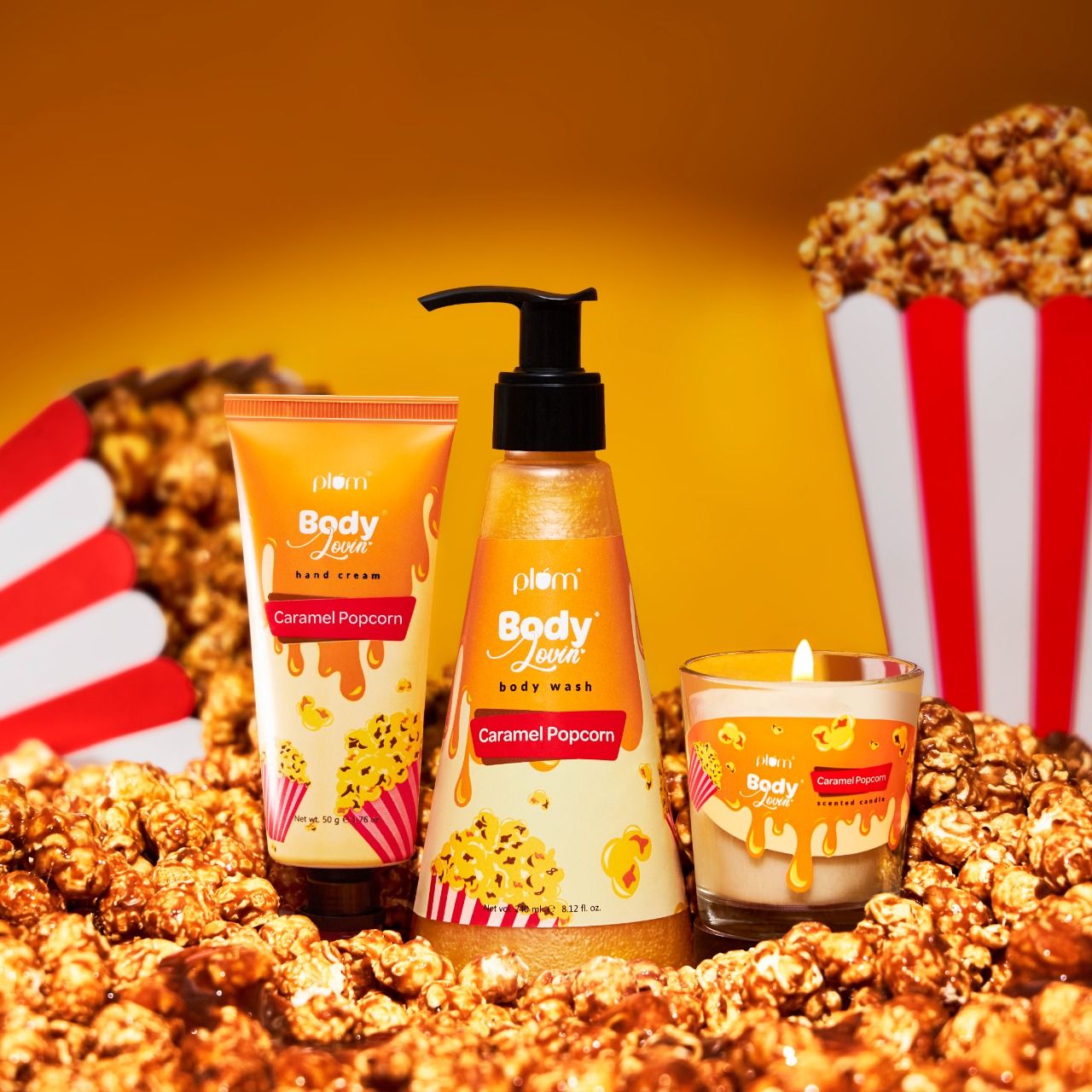 Launched in June 2020, Plum BodyLovin' is a quirky bath & body brand by the immensely loved vegan beauty brand Plum. Known as India's foremost 100% vegan personal care brand, with Plum BodyLovin', Plum has forayed into the bath & body market, but with a sassy & fab smellin' twist! We're talking 75+ exciting bodycare products in 12+ one-of-a-kind YUM fragrances & delightful sensorial experiences like never before. When Plum BodyLovin' says 'bodycare never smelled SO GOOD', they mean it!
The caramel popcorn range is the latest addition to the brand's product line-up and we couldn't be happier. After all, what's a better way to start your day than pampering your body with caramel popcorn first thing in the morning!
BRB, building an envious bodycare routine with Plum BodyLovin's Caramel Popcorn Collection.
*This is a sponsored article for Plum BodyLovin'
© 2023 THE GOOD GLAMM GROUP