Bridgerton But Make It Desi! Edwina Sharma Just Became A Manish Malhotra Bride & We Are Lovestruck
Raise your hand if you feel Edwina Sharma deserved better in Bridgerton Season 2. I definitely think so. She was kind, compassionate, and wise beyond her years. Edwina saw her world crumble before her eyes. She left her dreamy wedding right after realising her fiancé was in love with her sister. And yet she was gracious enough to push Kate to go after the man. That takes great strength and a big heart, right? Sadly, Edwina's plot was given zero weightage after the Viscount married Kate and we were left wondering what happened to her next.
Well, while Bridgerton 2 makers might have done Edwina dirty, designer Manish Malhotra just set the score right. He recently dressed up Edwina aka actress Charithra Chandran as a white bride for a popular magazine and the pictures have blown us away. Or let's just say Charithra in Manish Malhotra can eat every other Bridgerton white bride for breakfast! No exaggeration. Just facts. Scroll down to see what we are talking about.
Bridgerton X Manish Malhotra: The Crossover We Didn't Know We Needed
If there is one Indian couturier who always understands the assignment, it's Manish Malhotra. His recent looks for Charithra Chandran's photoshoot are proof. The prompt was to dress the actress for a destination wedding issue and given the Bridgerton connection, Manish decided to go all-white.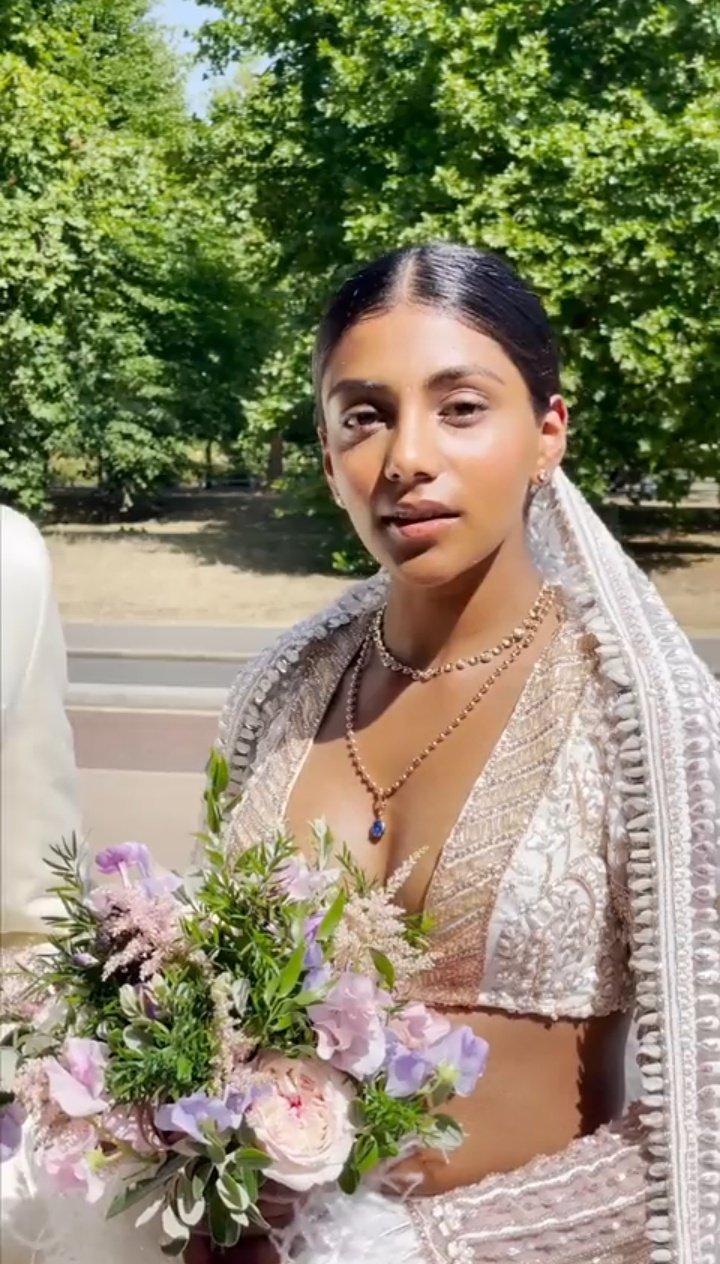 For the first look, the designer picked up a lehenga with his signature plunge-neck blouse. The skirt featured ethereal tonal embroidery all over and a trailing veil was added to accentuate the fairytale feel. The full sleeves perfectly pinned Charithra's look together and we can't get over how radiant she looks in the ensemble.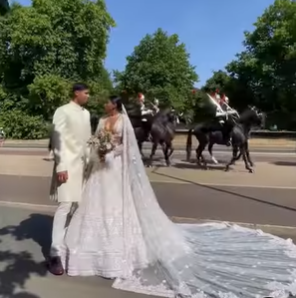 For look two, Charithra was dressed up in a tulle set comprising a hand-embroidered skirt, a bustier, and a gorgeous jacket. All things glamm and gorgeous, the layered look is a practical update on the fluffy Cinderella gowns and we approve!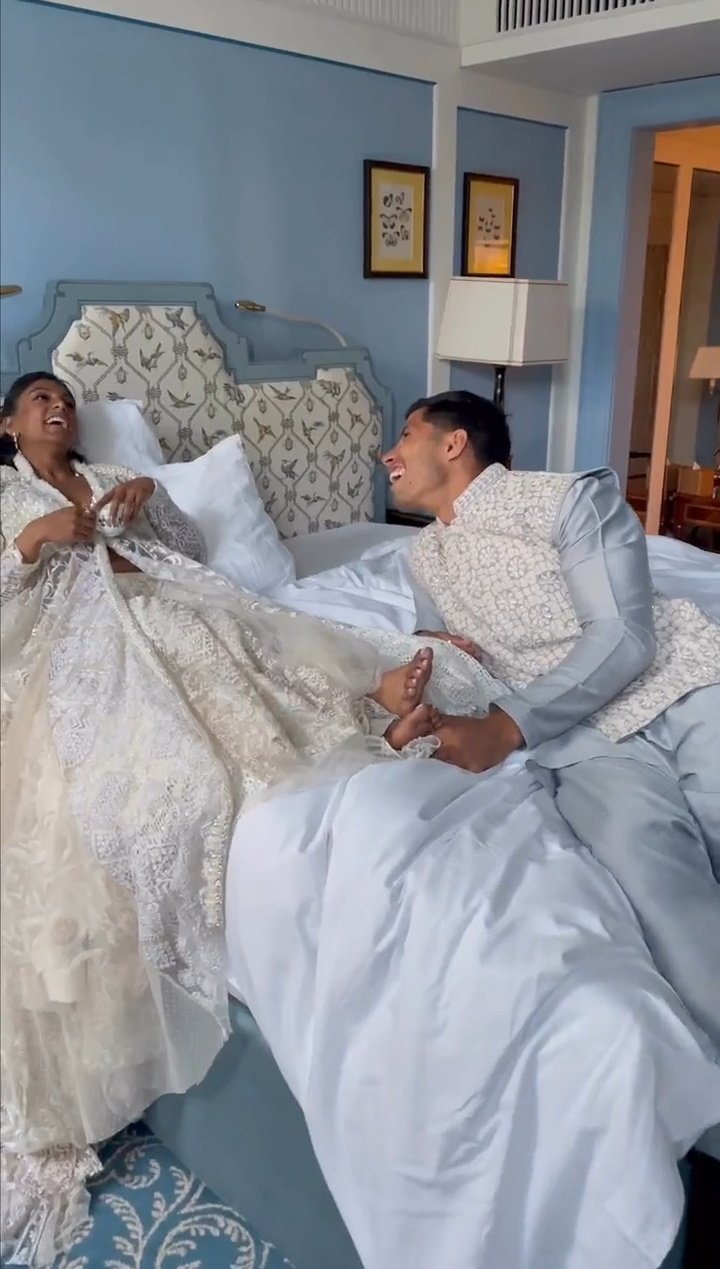 Charithra's look three, our favourite one from the lot, featured an off-shoulder fish cut gown and we want to see this one in the next season of Bridgerton now. The gorgeously embroidered piece accentuates Charithra's curves and is a great alternative for all the boring white satin wedding gowns that we have been spotting on TV lately. It's time to bring back OTT glamm and Manish has got the ball rolling with his grand aesthetic.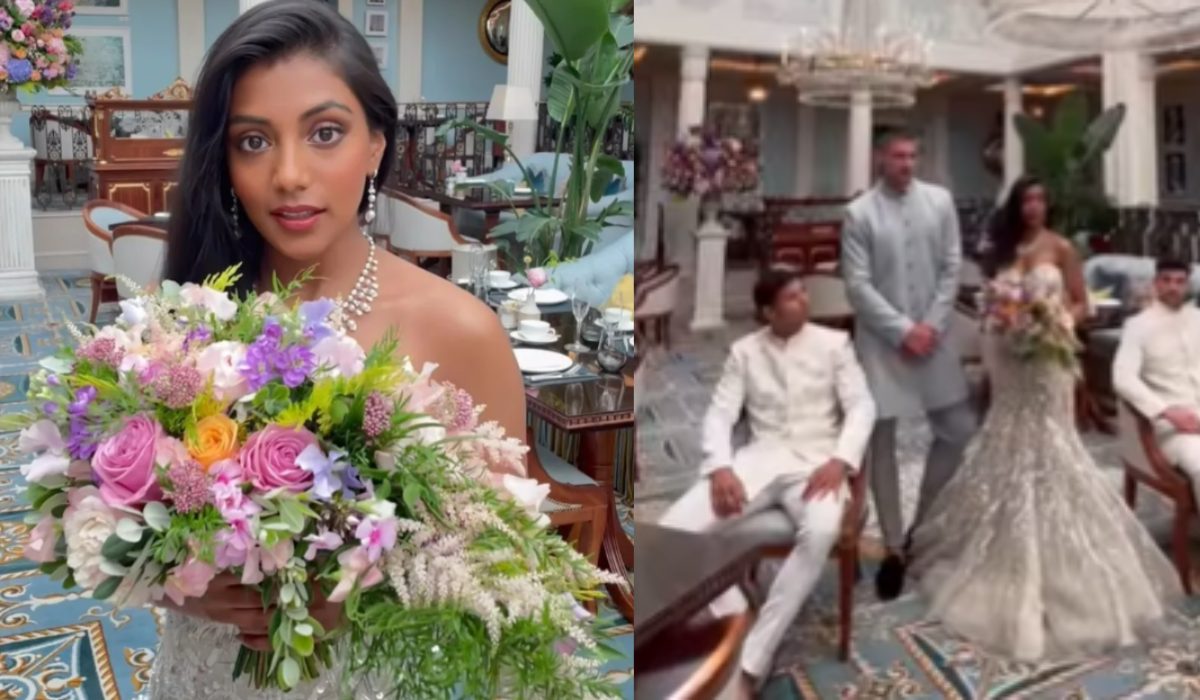 Charithra's fourth Manish Malhotra look had us thinking of her Bollywood debut. It comprised a heavy bustier, pleated sleeves dramatically cinched at the centre, and a matching lehenga. This one looks a lot like one of those show-stopping Manish Malhotra fits and we can totally see the Bridgerton star making her B-town debut in this one. Picture her in a wedding-themed Zoya Akhtar film! Yup, that's the mood board. Sounds exciting, right?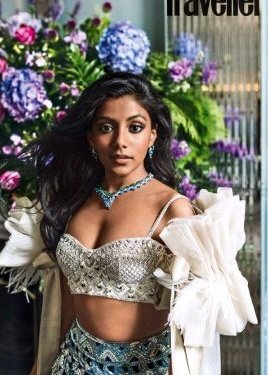 Here's hoping Charithra makes her Bollywood debut soon. After all, Manish Malhotra has already set the stage!
Featured Image: Twitter
© 2022 THE GOOD GLAMM GROUP