A few days ago, Atihya Shetty took to Instagram to reveal a few of her all-time favs, and lucky for us, she also included her trademark scent.
We're a big fan of smelling good at all times and we've got all the scoop on almost every best-smelling celebrity's favourite scent. Adding to the list, check out Athiya's go-to and it's affordable alternatives!
What Perfume Does Athiya Use?
According to her stories, Athiya's signature scent is Le Labo's Another 13, known for its unique scent profile with notes of ambroxyde (a synthetic animal musk), jasmine petals, musk, moss, and woody ambery notes. While the exact scent is not available in India, keep reading for 5 dupes that won't break the bank!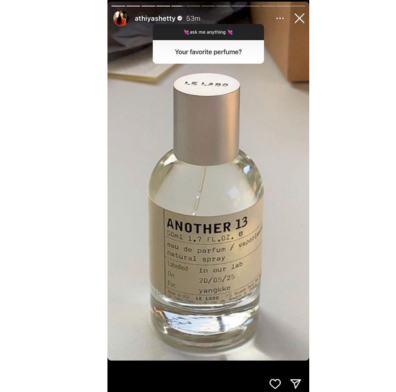 5 Dupes That Won't Break The Bank
Musk by All Good Scents provides a musky aroma that resonates with the ambroxyde note in Another 13. It's a unisex scent and suitable for daily wear, and you don't have to dip into your savings for it!
Layer'r Wottagirl! Vanilla Twist Body Splash is our second pick. Though it leans more towards the sweet side, the musky vanilla base gives it a depth that could remind one of the muskiness in Another 13. It's a gentle and comforting scent ideal for relaxed occasions.
Fogg Scent Beautiful Secret is known for its longevity; this perfume offers a blend of white musk and florals, which mimic the soft musk and jasmine petals combination in Another 13. Wear it for your summer nights out since it's a soothing scent that stays on for hours together.
Naso Porfumi Basil Infused In Sambac is more on the sweeter side but since I'm a big fan of jasmine-scented perfumes, I just had to include this in the list. This perfume has a poignant, floral scent that encapsulates the elegant and intoxicating aroma of jasmine, making it an everyday scent that's both refreshing and light.
While the Yardley London Morning Dew is primarily a floral fragrance, its musky base does somewhat echo the musky undertones of Another 13. It's a light, refreshing scent apt for daywear and super budget-friendly, too!
Each of these carries elements that might remind you of the Le Labo signature scent. Remember, it's always best to test the fragrances personally as individual skin chemistry can influence how a perfume is perceived.
Featured Image: Instagram