Let's Get Musical! 7 Reasons Why You Should Learn To Play The Ukulele
I love music, but sadly, I'm not very good at it. While I enjoy singing, I try not to in public because honestly, I don't want to torture people around me. Yeah, I'm that bad. In fact, I even tried learning a few instruments when I was in school. I tried the guitar, but couldn't get past the stage of remembering the names of the chords. I tried my luck with the harmonium as well. To put it simply, it was a disaster. After a few more attempts with the drums, keyboard, and mouth organs, I quit. I have to say, it hurt a little. After all, it was a child's passion that I had to let go of.
Wait, let's not get too emo here. Things got better when I started listening to good music. And gradually, I forgot all about my childhood dream of learning an instrument. But, you know what they say, right? If you truly want something, then the entire universe will conspire for you to have it. Yes! It's happening. I started learning a new instrument during the pandemic—the ukulele—and it's been a blast!
The pandemic has been tough on all of us. And, not going to lie, staying cooped up inside our houses for months is not easy. But if we look at the brighter side, it is also a time when we can actually focus on ourselves and work on our interests. According to Siddhartha Jhunjhunwala, founder and director of online musical instruments store Kadence, plenty of people (like me) purchased the instrument during the pandemic. He said, "2020 has been a difficult year for all of us but it also allowed everyone to explore new hobbies and discover new interests. In 2020 we registered a huge rise in sales of Ukulele since the beginning of the pandemic and it's continuing. Ukulele is an easy to carry, cost-effective and simple instrument which makes it an ideal choice for beginners"
I have to say, getting the ukelele has been one of the best decisions ever. It's easy to learn, therapeutic, and something I would recommend to everyone. And, if my recommendation is not enough (obviously), then here are more reasons to convince you.
7 Reasons Why You Need Ukulele In Your Life Right Away!
It does not matter whether you are musically inclined or a complete amateur, the ukulele is meant for everyone—regardless of age, musical knowledge, and experience. Here are some reasons why you should take up a ukelele, today:
It's Beginner-Friendly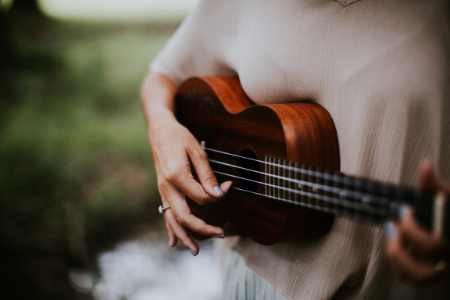 Learning a new thing in life can be exciting, but also intimidating. And, learning to play an instrument for the first time can be overwhelming. That's one of the major reasons why people do not stay consistent with their practice. Well, not with the ukulele. With three simple chords and four strings, it's one of the best instruments for beginners to play. If you want to get acquainted with music and learn sounds by ear, then uke is your go-to option.
Small & Really Easy To Handle
A soprano ukulele (an ideal option for you if you're a beginner) is only 21 inches long. That is approximately 5 times smaller than an acoustic guitar. It's really easy to handle such a small instrument and carry it around. So you can keep it in your car when you're going for a vacation or put it in your bag when you're going out for a good time.
It Is Durable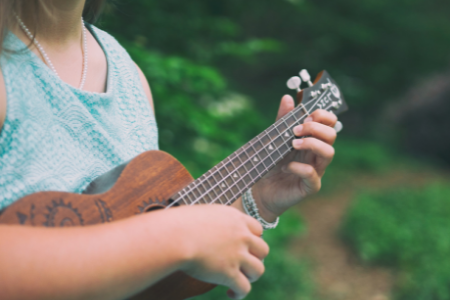 Believe it or not, the ukulele can be your buddy for a long, long time. This tiny instrument is not just cute but sturdy too. If you buy a ukulele, chances are that you can make it last forever. Well, of course, they aren't indestructible. But, you have to try really hard to break it. And while the strings can break during the initial months, it gets better with time.
It Is Affordable
A lot of people, especially beginners, think ten times before buying an instrument and one of the major reasons is its price point. No one wants to invest a large amount of money on something they're not sure about. Well, you can keep these apprehensions at bay when it comes to the ukelele. They're quite affordable. Depending on how much you're willing to spend, you can get a great ukulele for less than Rs 2000! And, every penny is going to be worth it.
It's Quite Easy To Learn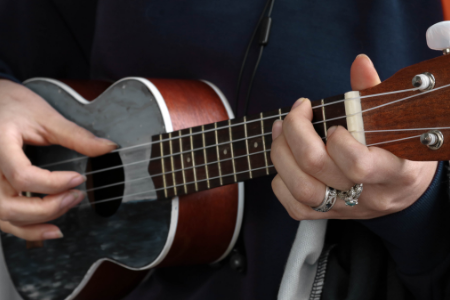 Several actors, including Kalki Koechlin, Bhumi Padnekar, and Vicky Kaushal know how to play the uke. It's really that easy. If you browse through YouTube today, you will find kids of 3-7 years and adults of more than 80 years playing the instrument like a pro. NGL, that's inspiring AF!
The four strings of the ukelele make chord shapes and scales easier to learn. The nylon strings won't hurt your fingers and the overall size of the instrument will not create tension in your wrist.
It's Therapeutic
The soothing music of the ukulele can instantly bring a smile to your face. It can transport you to another world in a jiffy. Whether you want to declutter your mind or looking for an easy escape from your reality, just sit with your instrument and tune out the world.
It's Versatile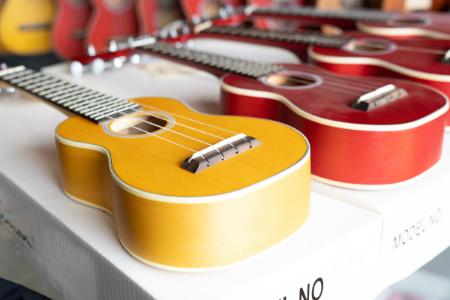 Yes, it is! You can literally learn any Bollywood song on your ukulele with ease. Thanks to hundreds of free lessons available on the internet, you can get started with your uke within minutes and play your first song within an hour. How exciting is that?
We're pretty sure that by now, you are convinced that you need a ukulele in your life STAT. So, order one right away!
Featured Image: Unsplash
© 2023 THE GOOD GLAMM GROUP