Hailey Bieber just launched a limited edition flavour of Rhode's viral peptide lip treatment, cheekily inspired by the iconic Krispy Kreme Strawberry Glazed Doughnut. While I do enjoy a good gloss, my heart lies with hydrating balms— nourishing, tinted balms that can double as an overnight mask for significantly plumper lips in the morning.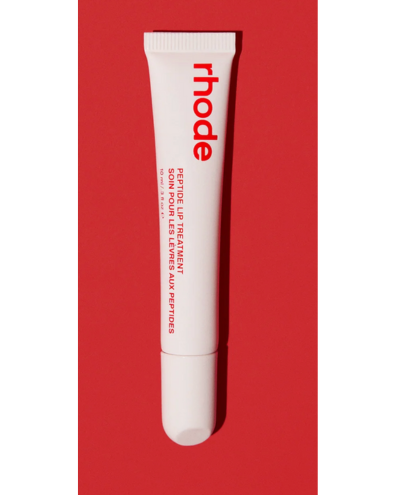 So naturally, I'm pretty bummed that I can't get my hands on this. I'm sure you are too, but here are five product options that can step in to fulfil your lip care desires:
If you're looking for a formula with peptide, the Earth Rhythm Lip Masque with Peptide is your best bet! This balm offers an intense plumping treatment for your lips, while the peptides visibly plump and reduce the look of lines around your lips. 
The Dot and Key Lip Plumping Sleep Mask is infused with vitamins C and E, shea butter and hyaluronic acid. It's soft, cushiony and usually used as an overnight lip mask but I've used it as a tint, on occasion. When I first tried this, it only had one shade but now they're out with 3 variants so you'll be spoiled for choice!
Laneige's Lip Sleeping Mask Berry is a leave-on lip mask that essentially hosts a blend of grapefruit, pomegranate, raspberry, and coconut oil. Each ingredient of the Berry Complex helps in nourishing your lips and locking in hydration, while the addition of vitamin C provides protection from environmental aggressors. The balm itself sports a thick, balm-like texture with a super glossy finish that's perfect for a hint of colour on your no-makeup days. 
You can never go wrong with a little bit of Vaseline. Formulated with Vitamin E, the Vaseline Lip Tin locks in moisture and keeps your lips feeling plump and luscious. I usually apply a thick layer of the jelly before going to bed and often layer it with my lipsticks for a smoother finish. 
Lastly, the Mario Badescu Lip Mask is devised with acai, vanilla and shea butter that keep your pouts hydrated, while the coconut oil and squalene soften and smoothen your lips. Featuring a luxuriously rich texture, it can be applied overnight to enhance hydration or throughout the day for those naturally plump lips. 
While the unavailability of the Rhode glaze is a minor letdown, there's no shortage of alternatives that can seamlessly step in to offer similar benefits. Its important to remember that trends will come and go, but the essence of effective lip care truly lies in nurturing and maintaining the health of your lips.